PUNJAB
HARYANA
JAMMU & KASHMIR
HIMACHAL
REGIONAL BRIEFS
NATION
OPINIONS
MAILBAG
BUSINESS
SPORTS
WORLD
*Manohar Joshi (Speaker) loses in North Central Mumbai
*V K Malhotra wins South Delhi
*Omar Abdullah (NC) wins from Srinagar, Mehbooba Mufti from Anantnag
*Smriti Irani 'Tulsi' loses in Chandni Chowk
*Rahul Gandhi wins from Amethi
*L.K. Adavani wins from Gandhinagar
*Filmstar Dharmendra wins from Bikaner
*CP Thakur (BJP) loses from Patna
*Sunil Dutt wins from Mumbai North West
*George Fernandes wins from Muzaffarpur
Thursday, May 13, 2004, Chandigarh, India
Updated at 11:00 pm (IST)

Total seats: 543;

Counting held: 535


Results

declared: 524

; Cong leading

India votes out NDA
Cong to stake claim to form next govt
New Delhi, May 13
The Congress would stake its claim today to form the next government led by it at the Centre.
CAST YOUR VOTE
Do you feel that the Sensex plunge is temporary?

* Sonia Gandhi wins from Rae Bareli
* Shivraj Patil loses from Latur
* Mamata Banerjee wins from Kolkata
* HD Deve Gowda wins from Hassan, loses in Kanakapura
* Filmstar Govinda wins from South Mumbai
* Sachin Pilot wins from Dausa
* Jagdish Titler wins from Delhi Saddar
* Mulayam Singh Yadav wins from Mainpuri
* Balram Jakhar (Cong) loses in Churu

BJP, INLD wiped out in Haryana
Chandigarh, May 13
Staging a massive comeback in Haryana, the Congress established leads in all the ten constituencies in the state early in the day and blew up some big guns of the Bharatiya Janata Party that is facing a wipeout in the state.
Pratibha leads Cong victory march in HP
Shimla, May 13
Pratibha Singh of the Congress, wife of Chief Minister Virbhadra Singh, has won from the prestigious Mandi parliamentary seat.

Election officials count votes on an electronic voting machine inside a vote count centre in New Delhi on Thursday. Early results in India's epic election show the ruling NDA alliance fighting for survival and the Congress leading. — Reuters
Science & Technology Tribune today
THE TRIBUNE MAGAZINES
On Sundays

On Saturdays

IN PASSING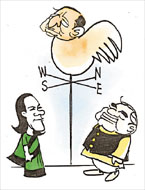 Can't tell which way the wind is. Perhaps, Mulayam Singhji can help.

by Sandeep Joshi
(Click to enlarge)
---
People's verdict today
New Delhi, May 12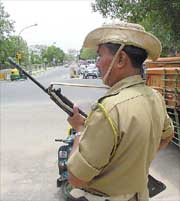 After two-month long campaign in the heat and dust and four-phase staggered polling, the D-Day has come. The verdict of the people would be known tomorrow when the votes are counted.


In video (28k, 56k)

STANDING GUARD: A security person keeps vigil outside the Mandir Marg counting centre in New Delhi on Wednesday. — Tribune photo by Mukesh Aggarwal


Editorial: Missing voters

Special article: The other side of elections

Jaitley wooing Maya; George holds talks with Sharad

George slaps legal notice on Sonia

Parliamentary board of BJP to meet tomorrow

Not in race for PM, says Mulayam

Cong unwilling to compromise on leadership issue

DMK not to join Cong-led govt

Ambani's meeting with Sonia sets off speculation

Sonia gets Chandrasekhar's support

Kalam continues consultations with legal experts

Re-polling in 631 stations in Bihar, WB




Y.S. Reddy to take over as Andhra CM tomorrow



Graphic: Gain-Loss in Andhra Pradesh Assembly poll

Opinions page: The man who won Andhra for Congress


Four Babbar Khalsa terrorists arrested
Amritsar, May 12
In a major breakthrough, the Majitha police today claimed to have foiled an attempt of the Babbar Khalsa International (BKI) to revive terrorism by apprehending four of its activists during a naka near Beharwal village under Lopoke police station last night. However, four others including a terrorist, managed to flee.

BRIDES WANTED
GROOMS WANTED
OTHERS
HOW TO PLACE ADVTS
Cong sweeps Andhra
May

12

, 2004
58 per cent cast vote
May

11

, 2004
Coalition with large parties better, says PM
May

10

, 2004
PM for stability, Sonia for change
May

9

, 2004
Gujarat action in bakery case misconceived, says SC
May

8

, 2004
Firms hiring ex-armymen for Iraq to be prosecuted
May

7

, 2004
4 die as school van hits train
May

6

, 2004
One killed, 37 injured in violence
May

5

, 2004
For stability Congress is the right choice: VP
May

4

, 2004
EC team begins probe in Chapra
May

3

, 2004
CJI seeks powers to deal with 'errant' judges
May

2

, 2004