PUNJAB
HARYANA
JAMMU & KASHMIR
HIMACHAL
REGIONAL BRIEFS
NATION
OPINIONS
MAILBAG
BUSINESS
SPORTS
WORLD

Friday, May 14, 2004, Chandigarh, India
Updated at 3:00 am (IST)

NDA VOTED OUT
Vajpayee resigns; Cong set to form government
New Delhi, May 13
On an astounding day when all predictions came crashing down causing bewilderment in BJP and Congress camps, the mantle of regaining the seat of power on Raisina Hill fell on the shoulders of the main Opposition party with a hoary history of over 110 years.

FINAL PARTY POSITION

Total seats
543
Election held
542
Counting held
539
Congress+
216
BJP+
186
Left
59
Others
78

LAST LOK SABHA TALLY

NDA
298
Congress
135
Others
110
CAST YOUR VOTE
Have the election results come as a surprise?

AGRICULTURE
EDUCATION
HEALTH & FITNESS
SCIENCE & TECHNOLOGY
CAREER GUIDE
SPORTS
HER WORLD
TRIBUNE CLASSIFIEDS
Sonia keeps suspense on PM issue

New Delhi, May 13
Congress President Sonia Gandhi today indicated that she was very much a prime ministerial candidate.


In video (28k, 56k)


Celebrations at Cong HQ

Editorial: Congress rules region


Sonia Gandhi poses for photographers at her residence in New Delhi on Thursday. — Tribune photo by Mukesh Aggarwal


SPECIAL EDITORIAL
The big change
by H. K. Dua
The ability to change a government and choose another by simply exercising the right to vote is the ultimate test of a democracy. The people of India have once again proved that we are one.
HARYANA: What made voter drop INLD


HIMACHAL: Congress scores impressive victory


NATIONAL CAPITAL REGION: Congress shining; lotus blossoms in S Delhi only


CHANDIGARH:
Commoners' 'hand' helps Bansal stand tall


LUDHIANA: Dhillon wins cliffhanger


OPINIONS: Congress rules region


BRIDES WANTED
GROOMS WANTED
OTHERS
HOW TO PLACE ADVTS
THE TRIBUNE MAGAZINES
On Sundays

On Saturdays

BJP lost, but India won: Vajpayee


New Delhi, May 13
Mr Atal Bihari Vajpayee, who this evening submitted his resignation to the President, Dr A.P.J. Abdul Kalam, said his party and alliance might have lost, but India had won.


Shocked BJP tries to come to terms with the loss


In video (28k, 56k)

SC should look afresh at the exit polls issue: Gill
New Delhi, May 13
With almost all exit and opinion polls predictions falling flat on the ground, the former Chief Election Commissioner and Rajya Sabha MP, Dr M.S. Gill, said the role of these polls should be looked at afresh.


EC not to pursue saree distribution case
Change in govt not to affect Indo-Pak peace process
New Delhi, May 13
The change of government in India will not affect the ongoing India-Pakistan peace talks, sources in the Government of India and Pakistan High Commission here told The Tribune today.


SAD-BJP alliance picks up 11 seats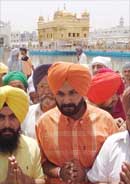 Chandigarh, May 13
Congress government's anti-corruption card failed to click among the voters as the party lost the game of chance to Shiromani Akali Dal-BJP alliance in Punjab.


Editorial: Congress rules region

More stories on Punjab page

After winning the parliamentary election from Amritsar, BJP-SAD candidate Navjot Singh Sidhu pays obeisance at the Golden Temple on Thursday. — A Tribune photo

People's verdict today
May

13

, 2004
Cong sweeps Andhra
May

12

, 2004
58 per cent cast vote
May

11

, 2004
Coalition with large parties better, says PM
May

10

, 2004
PM for stability, Sonia for change
May

9

, 2004
Gujarat action in bakery case misconceived, says SC
May

8

, 2004
Firms hiring ex-armymen for Iraq to be prosecuted
May

7

, 2004
4 die as school van hits train
May

6

, 2004
One killed, 37 injured in violence
May

5

, 2004
For stability Congress is the right choice: VP
May

4

, 2004