PUNJAB
HARYANA
JAMMU & KASHMIR
HIMACHAL
REGIONAL BRIEFS
NATION
OPINIONS
MAILBAG
BUSINESS
SPORTS
WORLD
Sunday, May 23, 2004, Chandigarh, India
Updated at 3:00 am (IST)

Manmohan heads 68-member Ministry
Pawar, Arjun Singh, Laloo, Natwar Singh get Cabinet rank
New Delhi, May 22
Seventy-one-year-old Dr Manmohan Singh, also known as the architect of economic reforms, was sworn in as the country's new Prime Minister today along with a 67-member Council of Ministers.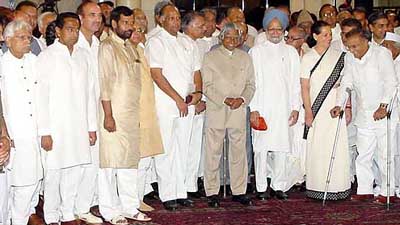 President A.P.J. Abdul Kalam with new Prime Minister Manmohan Singh and his Cabinet colleagues, Congress President Sonia Gandhi posing for a group photo after the swearing-in ceremony at Rashtrapati Bhavan in New Delhi on Saturday. — PTI photo


In video (28k, 56k)
Sidelights
CAST YOUR VOTE
Do you see major shifts in policy when the new government takes charge?

In Her World today
THE TRIBUNE MAGAZINES
On Sundays

On Saturdays

Delicate balancing act, Congress style
New Delhi, May 22
As the dominant 145-member entity in the United Progressive Alliance, the Congress had to undertake a delicate balancing act throughout the day in persuading certain pre-poll allies like the Lok Janshakti party's Mr Ram Vilas Paswan, not to abstain from the oath taking ceremony in Rashtrapati Bhavan here this evening.
CPM to decide on Speaker's post today
New Delhi, May 22
The Communist Party of India (Marxist) politburo is likely to meet tomorrow to decide on the Congress offer to have veteran leader Somnath Chatterjee as the Lok Sabha Speaker and hold a detailed discussion on the common minimum Programme.
Joint Director of Petroleum Ministry held
New Delhi, May 22
The CBI has arrested a senior officer of the Petroleum Ministry for allegedly demanding bribe from a Naphta importer.
Commonwealth lifts suspension of Pakistan
London, May 22
The Commonwealth today revoked the suspension of Pakistan from the grouping, welcoming the progress made by the country in restoration of democracy.


FORUM
The Tribune is the voice of the people. It is always keen to encourage debate on major issues facing the country. We want our readers to participate in the venture. We are starting a new feature called Forum which will provide a platform to our readers to express their opinions on major issues. Beginning this week, their views will be published every Thursday on a page being specially earmarked for this. We invite readers to give their views on the question:
What should the government led by Dr Manmohan Singh do in running the affairs of the nation?
The letters should not be more than 150 words. They can be sent to the Editor-in-Chief, The Tribune, Sector 29-C, Chandigarh, with the word 'Forum' mentioned on the envelope. They can also be e-mailed to:

[email protected]

— H.K.Dua (Editor-in-Chief)

Allies bargain hard for key portfolios
May

22

, 2004

Indo-Pak friction must end: Manmohan
May

21

, 2004

Manmohan Singh to be PM
May

20

, 2004

Sonia declines post of PM
May

19

, 2004

Bloodbath on the bourses in Dalal Street
May

18

, 2004

Allies want Sonia to be PM
May

17

, 2004

Decks cleared for Sonia-led govt
May

16

, 2004

Sonia emerging front runner
May

15

, 2004

NDA VOTED OUT
May

14

, 2004

People's verdict today
May

13

, 2004

Cong sweeps Andhra
May

12

, 2004