PUNJAB
HARYANA
JAMMU & KASHMIR
HIMACHAL
REGIONAL BRIEFS
NATION
OPINIONS
MAILBAG
BUSINESS
SPORTS
WORLD

Wednesday, June 9, 2004, Chandigarh, India
Updated at 3:00 am (IST)
Chaos over tainted ministers' issue
Both Houses of Parliament adjourned
New Delhi, June 8
Both Houses of Parliament were adjourned today without transacting much business as the Opposition led by the Bharatiya Janata Party continued with its scathing attack on the UPA government for inducting "tainted" persons in the Union Council of Ministers.
BJP not to relent on 'tainted' ministers
CAST YOUR VOTE
Do you feel that administration is to blame for gastroenteritis deaths in Punjab?

SCIENCE & TECHNOLOGY
EDUCATION
HEALTH & FITNESS
FORUM
CAREER GUIDE
SPORTS
WOMEN
TRIBUNE CLASSIFIEDS
BRIDES WANTED
GROOMS WANTED
OTHERS
HOW TO PLACE ADVTS

SC castigates Capt for not implementing 2002 order on SYL
New Delhi, June 8
The Supreme Court seems to have left the Amarinder government with little scope for legal remedy in the controversial Sutlej Yamuna Link canal case.


Nation page: Amarinder to meet PM

Punjab page: SAD opposes Amarinder approach
In Health & Fitness today
THE TRIBUNE MAGAZINES
On Sundays

On Saturdays

IN PASSING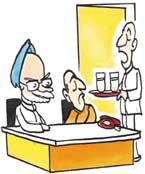 Sir, you want water from Cauvery, Ganges or Sutlej-Yamuna...

by Sandeep Joshi
(Click to enlarge)

It's tax(ing) time in Himachal Pradesh
Budget proposals to garner Rs 15 cr
Shimla, June 8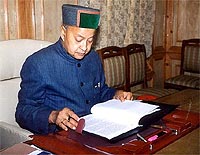 Fresh taxes to garner additional resources to the tune of Rs 15 crore have been proposed in the Rs 6893.61 crore reform-oriented Budget for 2004-05, leaving a deficit of Rs 703.79 crore uncovered.
The Chief Minister, Mr Virbhadra Singh, in the Vidhan Sabha in Shimla on Tuesday.

Himachal page: Bold, says Cong, listless for BJP

Atwal to be LS Deputy Speaker
New Delhi, June 8


National Democratic Alliance nominee Charanjit Singh Atwal is set to be unanimously elected Deputy Speaker of the Lok Sabha tomorrow.


Punjab page: First SAD Dalit nominee to become Lok Sabha Deputy Speaker

PM, Natwar sign Reagan condolence book
New Delhi, June 8
Prime Minister Manmohan Singh and External Affairs Minister K. Natwar Singh today visited the US Embassy here and wrote on the condolence book on the demise of former President Ronald Reagan.


Natwar adds London to his US itinerary

Editorial: Gas pipeline again


They were forced to commit suicide
Bathwala (Gurdaspur), June 8
Terrified women-folk from Madhya Pradesh remained confined to their temporary cottages throughout the day even as a pall of gloom descended on the brick kiln in this non-descript village due to the suicide committed by three young sisters by jumping before a speeding train yesterday morning.

Kalam condemns Gujarat violence
June 8, 2004
Natwar Singh assures Kasuri of continuing dialogue
June 7, 2004
Centre, EC move SC for vacating stay on RS poll
June 6, 2004
SC orders Centre to construct SYL Canal
June 5, 2004
Natwar rings up Kasuri
June 4, 2004
MPs back in LS with Benches swapped
June 3, 2004
Natwar proposes N-doctrine for India, China, Pak
June 2, 2004
India assures Pakistan on peace process
June 1, 2004
SGPC elections: Badal urges President, PM to intervene
May

31

, 2004
Reforms with human face: Yes, Mr PM, says Bengal CM
May

30

, 2004
Agriculture to get priority, assures FM
May

29

, 2004
CMP a neat balancing act
May

28

, 2004