PUNJAB
HARYANA
JAMMU & KASHMIR
HIMACHAL
REGIONAL BRIEFS
NATION
OPINIONS
MAILBAG
BUSINESS
SPORTS
WORLD
Tuesday, June 15, 2004, Chandigarh, India
Updated at 3:00 am (IST)
BJP rallies behind Modi, ignores Vajpayee
New Delhi, June 14
The Bharatiya Janata Party today virtually overlooked former Prime Minister Atal Bihari Vajpayee's critical statements against Gujarat Chief Minister Narendra Modi and instead the Sangh Parivar threw a protective ring around the controversial leader.


Editorial: Manali musings

Clash in Gujarat
CAST YOUR VOTE
Do you support the Akali Dal decision to include Hindus and Muslims in the party?

SCIENCE & TECHNOLOGY
EDUCATION
HEALTH & FITNESS
FORUM
JOBS & CAREER
SPORTS
WOMEN
TRIBUNE CLASSIFIEDS
BRIDES WANTED
GROOMS WANTED
OTHERS
HOW TO PLACE ADVTS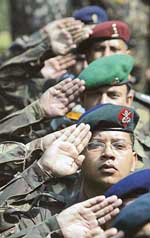 Army personnel salute as they remember their fallen colleagues during the 53rd anniversary of 15 Corps in Srinagar on Monday. — Reuters

Teaching of astrology no promotion of religion: SC
New Delhi, June 14
Even as the UPA government has initiated steps to reverse various decisions of former HRD Minister Murli Manohar Joshi in its efforts to "desaffronise" the education, the Supreme Court in its important judgement on the study of "jyotir vigyan" (astrology) has ruled that it can not be described as saffronisation.
6 Independent MLAs join Congress in Haryana
Chandigarh, June 14
Six Independent MLAs today joined the Congress. They were earlier supporting the INLD Government.

CHANDIGARH: Wife, son club man to death


LUDHIANA: Stock Holding agent 'steals' bank draft


OPINIONS: Manali musings


BUSINESS: FM, Aiyar meet PM


WORLD: 5 foreign contractors among 12 killed in Baghdad blast


SPORTS: Swedes swamp Bulgaria
In Education Tribune Today
THE TRIBUNE MAGAZINES
On Sundays

On Saturdays


Haryana leaders to meet on SYL
New Delhi, June 14
A meeting of the representatives of political parties, kisan unions, sarv khap panchayats and student organisations has been convened at Rohtak on June 19 to decide on steps regarding the implementation of the SC verdict on the SYL canal.

Punjab page:

Badal wants previous river water pacts annulled

Badal ridicules Army suggestion

Water flows to Pak only in monsoon, says Amarinder

Punjab Cong endorses all-party meeting resolution
US legal adviser defended torture, says report
New York, June 14
The Office of Legal Counsel, US Government's ultimate legal adviser, had drafted a memorandum that defended most interrogation methods involving intentional inflicting of pain and permanent damage in response to CIA question about what to do with top Al-Qaida captive Abu Zubaydah who had turned uncooperative. The memorandum was drafted by former OLC lawyer John Yoo.

CPI prefers role of watchdog
New Delhi, June 14
The CPI said here today that it preferred the role of a watchdog to that of a power partner of the Congress-led UPA government at the Centre.




Himachal boy with an IQ higher than Einstein's


Dharamsala, June 14
"His IQ level beats that of Albert Einstein," confirms the Gifted Development Centre, USA. Meet 11-year-old Akrit Jaswal, a resident of Noorpur, near here, who, after spending over two months with research fellows at the Tata Cancer Institute, Mumbai, and doing research at his personal lab in Delhi, now claims to have had breakthroughs in genetic treatment of cancer and AIDS.
To our readers

The Tribune is happy to announce the launch of 'Jobs & Careers', a four-page pullout which will be distributed free of cost every Tuesday. The pullout incorporates the 'Career Guide' page which used to appear on Fridays. It will carry regular columns by career experts Usha Albuquerque and Pervin Malhotra in addition to other features.
— Editor-in-Chief

India to join G-20 fight for farm subsidies
June 14, 2004
Ultras target tourists
June 13, 2004
Govt may review stand on troops for Iraq
June 12, 2004
President's Address passed without debate
June 11, 2004
Pranab bails out NDA
June 10, 2004
Chaos over tainted ministers' issue
June 9, 2004
Kalam condemns Gujarat violence
June 8, 2004
Natwar Singh assures Kasuri of continuing dialogue
June 7, 2004
Centre, EC move SC for vacating stay on RS poll
June 6, 2004
SC orders Centre to construct SYL Canal
June 5, 2004