PUNJAB
HARYANA
JAMMU & KASHMIR
HIMACHAL
REGIONAL BRIEFS
NATION
OPINIONS
MAILBAG
BUSINESS
SPORTS
WORLD

Thursday, July 1, 2004, Chandigarh, India
Updated at 3:00 am (IST)

Tainted ministers to stay, asserts PM
New Delhi, June 30


Prime Minister Manmohan Singh today rejected the BJP-led Opposition's demand for the removal of "tainted" ministers from his Cabinet and hoped that the coming Budget session of Parliament would not be disrupted on this count. Talking to newspersons after the presentation of Padma awards by President A.P.J.Abdul Kalam at Rashtrapati Bhavan, the Prime Minister said the previous NDA ministry also had several charge-sheeted persons and the "distinction" now made was not "tenable".
CAST YOUR VOTE
Do you agree with the PM's focus on rural development?

EDUCATION
JOBS & CAREERS
HEALTH & FITNESS
FORUM
SCIENCE & TECHNOLOGY
SPORTS
WOMEN
TRIBUNE CLASSIFIEDS
BRIDES WANTED
GROOMS WANTED
OTHERS
HOW TO PLACE ADVTS

Governors' issue: PM meets Kalam
New Delhi, June 30
With NDA-appointed governors refusing to resign, the United Progressive Alliance has asked President A.P.J. Kalam to remove them.


Nation page: Minister denies pressure on Governors
Nation page: Padma honours for Amrita, Gulzar

Justice (retd) M.N.R. Venkatachaliah receives the Padma Vibhushan award from President A.P.J. Abdul Kalam during an investiture ceremony at Rashtrapati Bhavan in Delhi on Tuesday.
— Tribune photo by Mukesh Aggarwal
In Forum today
THE TRIBUNE MAGAZINES
On Sundays

On Saturdays

IN PASSING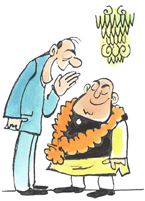 Finally, boss, you have proved your mass base after winning the Rajya Sabha seat.
by Sandeep Joshi
(Click to enlarge)
Bus to Muzaffarabad hits roadblock
New Delhi, June 30
India has proposed 10 Jammu and Kashmir-specific concrete and forward-looking Confidence Building Measures to Pakistan in the just-ended Foreign Secretary-level talks, though the stalemate continues on the proposed Srinagar-Muzaffarabad bus service.
Armed forces Special Powers Act in J&K to stay
Troops not to be reduced
Srinagar, June 30
Defence Minister Pranab Mukherjee today ruled out scrapping of legislation according unfettered powers to the security forces in countering extremist violence till terrorism continued in the state. "We cannot think of doing away with the Armed Forces (J & K) Special Powers Act, 1990 till terrorism completely put down in Jammu and Kashmir", Mr Mukherjee told mediapersons here at the conclusion of his first two-day visit to the state.

Arjun reverses KV teachers' transfer policy
New Delhi, June 30
The previous government's transfer policy for Kendriya Vidyalaya teachers was scrapped by the Human Resource Development Ministry today. It was replaced by a new policy which promises a more humane approach and a greater understanding of the problems of teachers, especially women. Teachers will not be removed from their schools unless absolutely necessary, the Ministry said.



Sikh body allowed to conduct CET
Chandigarh, June 30
In a significant decision, a high-level committee headed by a former Punjab and Haryana High Court Judge, Justice G.R. Majithia, has allowed the Association of Unaided Sikh Minority Medical and Dental Institutes in Punjab to hold its own common entrance test. This permission has been granted only for this academic year.
PM for uniform focus on rural development
June 30, 2004
India, Pak vow to resolve Kashmir issue
June 29, 2004
India, Pak agree on slew of CBMs
June 28, 2004
Militants massacre 12 in Poonch
June 27, 2004
Kiran Choudhary's
hopes dashed
June 26, 2004
PM for new deal to rural India
June 25, 2004
BJP skips Hindutva, targets Sonia
June 24, 2004
Return to basics, BJP chief tells party cadre
June 23, 2004
Natwar strikes a chord with Kasuri
June 22, 2004