THIS ABOVE ALL
In Farid's footsteps
Khushwant Singh
I have a large number of Sindhi friends — a few of them are Muslims but most are Hindus and Sikhs who migrated from Pakistan after Partition. A majority of them settled in Bombay where they have a Sindhi colony, Ulhasnagar. They have spread all over the country and abroad: you will find Sindhi shopkeepers and prosperous businessmen everywhere e.g. like Harilelas of Hong Kong, Hindujahs and Lalwanis in England, Wattoomals in America. With the diaspora, their distinct identity and language are threatened with extinction. Not many of the younger generation can speak Sindhi and the readiness with which they integrate with other communities will, in the foreseeable future, make them a relic of the past.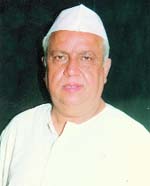 Lachman Chelaram
Sindhis have regional divisions of their own: Amils, Bhaibands and Shikarpuris. It is not as well known that they subscribe to both Hinduism and Sikhism. Almost all Amils, whose names usually end in 'ani' (the most educated of the three) revere the Guru Granth Sahib, have gurdwaras and raagis of their own. A small percentage of them like the Lalwanis and their sons-in-law, Mansukhanis, were bearded and beturbaned Khalsa. The vast majority describe themselves as Sehajdhari Sikhs (clean-shaven but practising Sikh rituals). Among the most outstanding were Sadhu Vaswani, who set up religious and educational institutions in Pune, and Dada Chelaram, a Sikh missionary and famous singer of Gurbani. He had a large family, two of whom Didi Kamla in Mumbai and seventh child Lachman Chelaram and his wife Rami ji carry on Dada's mission from an ashram on the Pusa Road in Delhi and another large one in Solan.
EARLIER COLUMNS

One up on Ghalib
July 3, 2004

Star interpreters
June 26, 2004

What makes a city beautiful
June 19, 2004

CRI turns 100: No sound of celebration
June 12, 2004

Man-motivated tragedies
June 5, 2004

A verdict in favour of secularism
May 29, 2004

Charm of the Shivaliks
May 22, 2004

Meditating upon the Gayatri Mantra
May 1, 2004

Idol speculation
April 24, 2004

He could've been Betaaj Badshah
April 17, 2004

The potent Gayatri Mantra
April 10, 2004
Lachman, now in his mid-sixties, is a graduate in Divinity and, undoubtedly, the most erudite of preachers of Sikhism. Every year, he travels all over the world, preaching the gospel of the Gurus. He has translated and published translations of the Guru Granth Sahib in Gurmukhi, Sindhi (Arabic script), Hindi, Gujarati, Marathi and English. He is currently working on a translation of Guru Gobind Singh's Dasam Granth in Hindi.
Lachman, now with the same honorific as his father Dada, has been honoured by the SGPC as well as the Chief Khalsa Diwan. However, the ultra orthodox religious fundamentalists in the community oppose Sehajdhari Sikhs having a voice in the management of their gurdwaras. Lachman is the living embodiment of Sheikh Farid, whose hymns are incorporated in the Guru Granth Sahib. "I am like the needle which sews people, Iam not the scissors which cut them apart." Lachman Das Chelaram has done more to bring Sikhs and Hindus closer to each other than any other person living today.
Pyromania
"Hirenbabu, you are under arrest for arson, damage of state property and causing public terror," says an Inspector of Police to Hirenbabu while handcuffing him. There are other charges against him, including murder of his mistress. Hirenbabu is a compulsive arsonist who set fire to his own public telephone booth, the New Market, part of Park Street and stalls of the Calcutta Book Fair.
These are, of course, fantasies of a man with a sick mind. Another character is Manik Basu, renowned author of many world's bestsellers. He is kidnapped by the publisher, Ajit Chaudhury, and locked up in a large mansion in Prague and compelled by armed Czech gunmen to finish a novel for which he has received advance royalty. He is up against a writer's block. To save his life, he finishes his novel entitled The Garden of Earthly Delights. Indrajit Hazra has adopted the same title for his second novel, published by India Ink.
The link between the arsonist Hirenbabu and the celebrated novelist Manik Babu is tenuous, beyond credibility, Hazra explains it in the epilogue to his version of The Garden of Earthly Delights. He was inspired by a novel by the late Pramendra Mitra, famous for writing tales "that were pegged to facts without the reader or the judicial listeners ever knowing for sure what were his and what were truths.... Pramendra Mitra knew the aesthetics of fibbing and he knew that the best lie is the one which is heavily propped up on all sides by genuine facts."
Hazra re-creates Mitra's charade to tell his story. He is one of the quintet forming an adda, a very Bengali stag club where only men get together, sponge cigarettes off each other as they sip cups of tea and gossip away the hours. Hirenbabu breaks the rules of the all-male club by installing his mistress in the same apartment from where he runs his public telephone booth. He is an insomniac and spends his nights attending to his clients as well as consorting with his mistress. So other members of the adda dress themselves as hijras and smash up his telephone booth. He himself sets fire to his flat, which consumes his mistress as well. Then he takes on the rest of Calcutta, presumably to build a new Kolkata of his dreams. It is as bizaare a tale as I have read and yet highly readable.
The comic comma
Everyone knows where a full-stop is used,
An exclamation-mark is rarely abused!
With the colons and semis, there's never any trouble,
Nor with the inverted comma, single or double.
But, the comma is truly a conundrum —
Easy for others, torture for some.
On the use of the comma no two folks agree,
To use it where one likes one is free.
So, against the comma I keep pitting my wits,
Never knowing where the wretched thing fits.
The comma's a misnomer, may I remark?
A comma's no comma... it's a question-mark!
(Contributed by Anuradha Paul, Nagpur)