THIS ABOVE ALL
Idol speculation
by Khushwant Singh


EARLIER COLUMNS

He could've been Betaaj Badshah
April 17, 2004

The potent Gayatri Mantra
April 10, 2004

It is time to revive Hindustani
April 3, 2004

Recipe for cooking bestsellers
March 27, 2004

Relative appeal of beauty and films
March 20, 2004

Khayyam was a rationalist
March 13, 2004

Look for your goldmine
March 6, 2004

Of scarecrows and political satire
February 28, 2004

The importance of punctuating thought
February 21, 2004

Ghalib knew his worth
February 14, 2004

In the sunset of their lives
February 7, 2004

Chennai, the city of achievers
January 31, 2004

Pakistanis are like us only
January 24, 2004

Farid was the first to use Punjabi in poetry
January 17, 2004

Sahir's tortured soul
January 10, 2004

The colourful story of dull dictionary
January 03, 2004

Guru Gobind Singh did not want to separate God from God
December 27, 2003

The art of doing nothing
December 20, 2003

Manto's description of the mayhem of 1947
December 13, 2003
PREETAM Giani is an iconoclast (an idol-breaker) in more senses than one. He was born of Pakistani Muslim parents, given a Muslim name and brought up as one. He changed it to a recognisable Hindu-Sikh name Preetam Giani. While a student of English literature in Cambridge University, he openly proclaimed himself to be a gay and continues to champion the cause of homosexuals. He has been in trouble with the police. Looked upon by the orthodox as a renegade, he also declares he is an idolater: he worships Lakshmi, the goddess of wealth. However, Lakshmi has not been very kind to him as he is always hard up for money.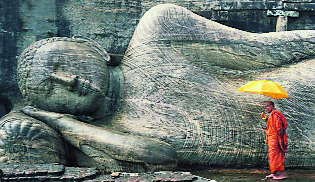 Preetam lives in Abbotabad (Pakistan) and often writes to me. Some years ago, he came to Delhi with his Pakistani friend. I took an afternoon off to drive them round the city. He was not interested in seeing monuments but agreed to visit Ghalib's grave in Nizamuddin. While his friend recited the fateha beside the tomb of the poet, he stood at a distance taking photographs. He showed no desire to go into the dargah to pay homage to Amir Khusrau or Hazrat Nizamuddin Auliya. Instead, he went next door to the Ghalib Institute and handed over a set of his translations of Ghalib's Diwan.
In his last letter to me, Preetam wrote: "Anyone who has ever kissed the photo of a loved one should be able to understand the reason for idolatory." That I think is going too far. Most of us have photographs of people we love or admire on our walls or in silver frames on our tables but we do not worship them.
However, one has to concede that the dividing line between respect, admiration and worship is often blurred. However much some religions decry worship of idols, it manifests itself in different forms in all of them. Jainism and Buddhism question the existence of God and decry worship of idols as symbolic representations of the Divine. Nevertheless idols of Mahavira and other Tirthankars and those of Gautama Buddha are the central pieces of all Jain and Buddhist temples. Hinduism, which often maintains God is nirankar (without form), in practice makes no apology for representing the formless God in human or symbolic forms. The only Hindu temples without idols that I came across were in Bali. Reformist sects like the Brahmo and the Arya Samaj which tried to discard idol worship failed in their quests.
Sikhs, who also profess to be against idol worship, treat the Granth Sahib much the same way as Hindus treat their idols. The Granth Sahib is "woken up" in the morning (prakash) and put to sleep (santokhna) at night. It is draped in rich embroidered silks and taken out in processions. In homes of the rich, a room is set apart for the holy book (Baba ji da kamra), and fans or ACs are kept going round the clock in the summer months.
Christians deny they are idol worshippers. However, the reverence they show towards the statues of Jesus Christ and Virgin Mary are no different from reverence shown by idol worshippers to their deities carved in stone or wood.
Muslims claim with pride that they abominate idol worship and regard idol-breakers as their heroes. It is true that they do not allow pictures or idols of the Prophet to be made but Shias in Iran have pictures of Hazrat Ali Hasan and Hussain in the streets and on walls in their homes. More Muslims visit dargahs, where their holy men are buried, to ask for favours than they go to mosques to offer namaaz. Instead of worshipping idols, they worship graves of their peers, rightly described as kabar-prasti.
Idol worship is inherent in human nature.
Tabish Khair
The name rang a bell; a somewhat faint and distant echo from the past. Who was he? He had not been heard of for quite some time. Then it came back with a bang. Over 12 years ago when the Babri Masjid was pulled down, there was a protest meeting organised by students of Jawaharlal Nehru University. Tabish Khair, who was on the editorial staff of The Times of India and made a name as a poet, was invited to speak or recite a poem. Before he could utter a word, he broke down and wept like a child who had lost his mother. So did many in the audience. It was the most eloquent protest. He migrated to Denmark and married a Danish girl. He is now Associate Professor of English literature in Aarhus University in Copenhagen and writes for journals. India's loss became Denmark's gain.
Tabish was born in 1966, probably in Gaya (Bihar). I had not read anything by him till I received The Bus that Stopped (Picador). It makes pleasant and easy reading: short sentences, short paragraphs, short chapters, some not more than one line. It has the power of simplicity. There are vivid descriptions of Bihar's nondescript towns and villages, of common people ranging from bus drivers, cleaners, to a thief and a bawarchi (cook). It has small-town people, the richest being a migrant Sindhi family which owns a cloth shop, and sprinkling of foreign tourists visiting Bodh Gaya. Thrown in for good measure, is a half Indian-half Danish with a suitcase full of currency notes to bribe a minister in Patna for securing a lucrative deal. Most of the tale is told during a bus journey between Phansa and Gaya with flashbacks to passengers' lives to their finding themselves in the same bus. Reminded me of Thoruton Wilder's The Bridge of San Louis Ray in an Indian setting.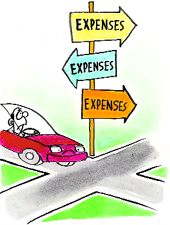 I enjoyed reading it as much as I had the American modern classic.
Meeting expenses
A senior-level marketing executive was lamenting the effect of inflation and rising prices of consumer products. He said, "My wife finds it difficult to balance the budget and meet the household expenses."
His colleague who was known as a happy-go-lucky fellow replied, "My dear friend it is not at all hard to meet the expenses. They are everywhere."
(Contributed by R.N. Lakhotia, N. Delhi.)