THIS ABOVE ALL
He couldíve been Betaaj Badshah
by Khushwant Singh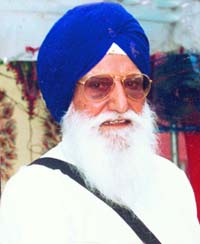 G.S. Tohra: With greater vision, he could have risen higher
THE last I saw of Jathedar Gurcharan Singh Tohra was on the TV screen a day before his death. He was sitting behind raagis (hymn singers) in the Golden Temple. It was in the morning that he, as President of the SGPC, had inaugurated the kar seva to clean the pool of nectar (Amrit Sar) of the silt that had accumulated there over the last 20 years. Over two million men and women were expected to take part in it. The hymn the raagis were singing was very appropriate: Satgur kee seva safal hai, je karey chit laae (the service of the Lord is fruitful if one puts oneís heart and soul in it). A few hours later, he suffered a massive heart attack and was taken to a local hospital. The Prime Minister and his Deputy and Parkash Singh Badal and other Punjabi leaders called on him. He was shifted to Escorts Hospital in Delhi in the hope that heart surgery might save his life. Before it could be done, he gave up the fight and died a few minutes after the midnight gave way to the first of April. It was not the right time for a leader to go: daily papers are usually put to bed (i.e ready for printing) and there is little space available on the front page. Besides, our first Test match against Pakistan was poised for a spectacular victory and Laxmi Pandit had something to say about her age and marital status to win Pondís Cream Miss India Beauty contest. Tohraís departure did not get the coverage it deserved. He dominated Sikh politics for over half a century. He could have become the uncrowned King of the Sikhs and have an entire chapter on his life in the history of his community, but he did not go very far beyond being the most important Jathedar and his name will be found in the footnotes.
ARLIER COLUMNS

The potent Gayatri Mantra

April 10, 2004

It is time to revive Hindustani

April 3, 2004

Recipe for cooking bestsellers
March 27, 2004

Relative appeal of beauty and films
March 20, 2004

Khayyam was a rationalist
March 13, 2004

Look for your goldmine
March 6, 2004

Of scarecrows and political satire
February 28, 2004

The importance of punctuating thought
February 21, 2004

Ghalib knew his worth
February 14, 2004

In the sunset of their lives
February 7, 2004

Chennai, the city of achievers
January 31, 2004

Pakistanis are like us only
January 24, 2004

Farid was the first to use Punjabi in poetry
January 17, 2004

Sahirís tortured soul
January 10, 2004

The colourful story of dull dictionary
January 03, 2004

Guru Gobind Singh did not want to separate God from God
December 27, 2003

The art of doing nothing
December 20, 2003

Mantoís description of the mayhem of 1947
December 13, 2003

Election fever spreads
November 29, 2003

Jayalalithaa has grown more enigmatic with time
November 22, 2003
Gurcharan Singh Tohra was born in 1924, the son of a farmer with a small holding in Tohra village (hence the surname) in Patiala district. He was a Tiwana Jat. And like most Jat Sikhs, he was tall, strapping with an imposing presence. He was a man of modest learning but with command over Punjabi and the holy scriptures. He spoke Hindustani with a Punjabi accent. He understood English but could not speak it. He made his debut in Sikh politics while he was in his mid-twenties. It was after the Partition, when the Sikhs migrated en masse from Pakistan and scattered all over India, that political power passed out of the hands of leaders from West Punjab to those of Malwa and Doaba. Tohraís role in the partition massacres cast a blemish on his character. He confessed to having taken part in it and killing an innocent Muslim. If he had saved Muslims from the wrath of Sikh and Hindu mobs thirsting for Muslim blood, I would have saluted him as a true leader.
Tohra was elected member of the SGPC (Shiromani Gurdwara Prabandhak Committee) in 1960. In 1973, he was elected its President for the first time. But for four or five years, he remained its head being re-elected 26 times till the day he died. He could have used the vast resources of money (well) over Rs 400 crore a year) and control of innumerable schools, colleges and hospitals managed by the SGPC; he could well have wiped out illiteracy and educated unemployment from the richest and the most forward-looking agricultural community of India. He did not have the vision to do so. However, it has to be conceded that Tohra was scrupulously honest in money matters and unlike the politicians did not add a rupee to his personal wealth nor indulged in nepotism. Also, unlike other politicians, he was a puritan; he did not drink, didnít stay in Five-star hotels, did not own a car or a bungalow.
His years as head of the SGPC left another big black mark on his career. He failed to preserve the sanctity of the Golden Temple and allowed Bhindranwale to turn it into an armed fortress, which in turn forced the Central Government to order the Army to enter its sacred precincts. The Army not only killed Bhindranwale and hundreds of his armed followers but also thousands of innocent pilgrims. He tamely surrendered to the Army and lost much of the respect he had earned. Later an attempt was made on his life.
Tohra was elected to the Rajya Sabha six times and the Lok Sabha once. No other Indian had so long a run as he in Parliament. But he rarely took part in the proceedings. His contribution to debates in Parliament could be written behind a postage stamp.
Tohra had a sneaking sympathy for Khalistan. I recall confronting him once directly on the subject. I told him that over 20 per cent of the Sikh population lived and prospered outside Punjab. Most of them were refugees from Pakistan. Did he want them to be uprooted once again? Didnít he realise that Khalistan would spell disaster for the Khalsa Panth? His reply was a chilling assertion: "Qauman noon qurbani deynee paundee hai" (communities have to make sacrifices to achieve their goals).
Tohra was a wily politician who could out-fox anyone who stood in his way. Here was indeed a man who could have become the Betaaj Badshah of the Panth, but his vision remained limited to launching morchas and going to jail. He did not have the qualities of a far-seeing statesman who could have led a vibrant and progressive community to greater heights of prosperity and find an honoured place in the annals of history.
The last I saw of him was again on TV ó of the state funeral given to him in his village. There was an enormous crowd of mourners. In the background one could hear the most beautiful dirge: Saajan maindey rangley jaee suttey jeevaan (My handsome friend has gone to sleep among the dead). My eyes filled with tears. What great things this man could have accomplished if he had the vision and the will to do so.
Long tale
Asked how he had enjoyed a dayís trip with some neighbours, my young nephew replied that it was fine but that his friendís father knew a lot of long stories. "He told one story that was 60 kilometres long," marvelled the youngster.
"How did you know? I asked.
"Because, " he replied, " I checked it on the speedometer."
Self-made man
A very talkative British MP called on famous writer Nirad C. Chaudhri at his Oxford residence. After a lengthy lecture on different problems of England, he paused and finally said, "I am a self-made man."
"That, Sir," replied Choudhury," relieved the Almighty from a terrible responsibility."
(Contributed by Reeten Ganguly, Tezpur)