THIS ABOVE ALL
A verdict in favour of secularism
by Khushwant Singh
We had a surfeit of election coverage in our media. I was up to my neck with all I had to swallow from the time the Prime Minister Vajpayee announced that he would go to the country for another term of five years before the present one was over. We were told to feel good, to see India shining and vote for those who made us feel good and gave Mother India fresh radiance on her fair face.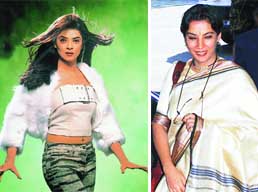 Blessed with beauty and brains: Sushmita Sen and Shabana Azmi
We were also told that the feel good and shine on the face was a lot of eyewash and the little that India had achieved was not under Vajpayee's rule but initiated by his predecessors of the Congress party. I did not know what to believe. The public opinion and the exit polls further confounded my confusion. They seemed to be based as much on guess-work and personal bias as they were on samples of voters' views. For me it was neither feeling good nor seeing India shining but India confusing.
Being stuck in a small rickshaw cantonment in the Shivaliks with no TV to help me keep up with the events, I had to rely entirely on papers published in Chandigarh and Jalandhar. Never before in my election campaign had I seen issues that really matter put on the back-burner and personal attacks on the character of rivals brought to the forefront. Punjab was the worst. Day after day, papers carried half-page advertisements. One showed Amarinder Singh (Cong) as a sharaabi-kababi with a nubile young woman filling his glass of wine. Another page had Parkash Singh Badal and his son (Akalis) depicted as bade-mian and chhote mian, outdoing each other in the amount of cash and property they had amassed. Where was the Election Commission? Who paid for these advertisements?
If the elections were confusing, their outcome has been more confusing. No one really believed that the BJP-led coalition would be defeated and the Congress stage a spectacular comeback. I for one admit I am delighted to find I was proved wrong. Much as I have affection and respect for men like Vajpayee, Jaswant Singh, Jagmohan and Arun Shourie, I felt the party they belonged to deserved to be rejected by the people. I regard the outcome as a decisive verdict in favour of secularism and rejection of religiously motivated politics of the fundoos.
EARLIER COLUMNS

Charm of the Shivaliks
May 22, 2004

Meditating upon the Gayatri Mantra
May 1, 2004

Idol speculation
April 24, 2004

He could've been Betaaj Badshah
April 17, 2004

The potent Gayatri Mantra
April 10, 2004

It is time to revive Hindustani
April 3, 2004

Recipe for cooking bestsellers
March 27, 2004

Relative appeal of beauty and films
March 20, 2004

Khayyam was a rationalist
March 13, 2004

Look for your goldmine
March 6, 2004

Of scarecrows and political satire
February 28, 2004

The importance of punctuating thought
February 21, 2004

Ghalib knew his worth
February 14, 2004

In the sunset of their lives
February 7, 2004

Chennai, the city of achievers
January 31, 2004

Pakistanis are like us only
January 24, 2004
Meaningless dialogue
There is a young man in town who, under his father's orders, calls on me once a week to have a "meaningful dialogue" on matters of national interest. "Bapu says you must see that budda sardarji off and on and get his views on subjects that interest you," he tells me. As a token, he gives me a ball-point pen as guru dakshina every time he visits me. His main interests are film stars, cricketers and politicians. Our dialogue goes somewhat as follows:
"What do you think of Aishwarya Rai?" he asks.
"Very beautiful."
"How many marks do you give her?"
"Ten out of ten. Also, to Sushmita Sen who is both beautiful and bright."
"And Hema Malini?"
"I used to give her ten out of ten; but since she became the second wife of Dharmendra, I have reduced her count to five out of ten. She also tells lies. She is an Iyengar Brahmin, which is true. But she calls Dharmendra a good Hindu, which he is not. He is a Deol Jat Sikh. I am not sure if both converted to Islam pro tem to get married but there is no doubt their relationship is bigamous and against the law of the land. Dara Singh calls Dharmendra a simpleton. I agree. I use the same word for Dara Singh. He was a pehelwan. He made a good Hanuman. He should wear a tail and jump about but keep out of politics. I give him three out of ten."
"Poonam Dhillon?"
"Only seen her photographs. Okay to look at. Not much in the upper storey. Two out of ten."
"You don't like film people going into politics?" he asked.
"Not as a rule. People should stick to doing what they can do best. There can be exceptions. I give Shabana Azmi ten out of ten.
If I could, I would give more, she is not only a good looker and a superb actress but also dedicated social worker. The same holds for Sunil Dutt: good actor, saintly person. About Vinod Khanna, I know nothing. That does not apply to Shatrughan Sinha. I know him: first-rate orator, second-rate actor, third-rate Minister."
"There are different kinds of people in films: actors, directors, producers, distributors. Of these, actors get more exposure and, therefore, draw more crowds. There were M.G. Ramachandran and N.T. Rama Rao. Producers-directors like Karunanidhi and Chandrababu. So, different marks for different people. Full marks for Chandrababu Naidu. By any reckoning, he was the best Chief Minister any state had. You have to go to Hyderabad to see what he has done to Andhra Pradesh. But the people have rejected him."
"What about cricketers? You think they should join politics?"
"Whether I think they should or should not, they will do so if they get as much applause and money as they did when they scored centuries. Take, for example, this Sidhu fellow. He is handsome and powerfully built a sardar as can be seen anywhere. Also has a violent temper: he killed a man with his bare hands. His is a bigger gas bag than Shatrughan Sinha. In the Lok Sabha, he will give that Bihari a run for his money. Shatru is now low on gas; Sidhu had his tank filled up recently at the Parliament Street petrol pump. And that Jat boy from Najafgarh, who scored three centuries against Pakistan, has probably read nothing besides books on cricket. But his pitaji, who knows which side his chappati is buttered, volunteered to offer his son to canvass for Sahib Singh Verma. It could not prevent Verma's downfall."
"You have left out Jayalalithaa ? "
"Deliberately, " I replied. "She is in a class of her own. Very good to look at in her younger days. Now, somewhat bloated. Never saw any of her films as I don't follow Tamil. A bit of an enigma, a Brahmin leading an anti-Brahmin party. Democratically elected dictator with dictatorial ways. Doesn't take a step without consulting her astrologers. If she becomes the queen of Bharat as is predicted for her, no one will be allowed to break wind without first seeking her permission. I will take the first flight out of India."
Noble no more
Where thieving is without fear
without a shred of shame;
Where ignorance rules;
Where the world is broken
up into warring groups, (of nationalists;)
Where a hungry peasant stretches
his arm towards a bottle of poison;
Where untruth flows unbound
drowning all reason;
Where words change their import;
Where truth is dumped on the attic;
Where devils quote scriptures;
Where the power hungry strive
to reach the chair and the crown;
Where mind is led into lanes.
narrow and suffocating;
someone, take my Nobel away;
It does not breathe free.
(Contributed by J.R. Jyoti, Secunderabad)