PUNJAB
HARYANA
JAMMU & KASHMIR
HIMACHAL
REGIONAL BRIEFS
NATION
OPINIONS
MAILBAG
BUSINESS
SPORTS
WORLD
Thursday, July 29, 2004, Chandigarh, India
Updated at 3:00 am (IST)

Sonia does not meet Amarinder


New Delhi, July 28
Apparently unhappy with Punjab Chief Minister Amarinder Singh over the manner in which his government went ahead with the legislation abrogating water accords with the neighbouring states, Congress President Sonia Gandhi did not grant him an appointment during his three-day stay in the Capital.
CAST YOUR VOTE
Will India be able to win the Asia Cup?


EDUCATION
JOBS & CAREERS
HEALTH & FITNESS
FORUM
SCIENCE & TECHNOLOGY
SPORTS
WOMEN
TRIBUNE CLASSIFIEDS
BRIDES WANTED
GROOMS WANTED
OTHERS
HOW TO PLACE ADVTS
Kashmiri girls run for shelter as soldiers carry out raids in search of militants in the outskirts of Srinagar on Wednesday.
— Tribune photo by Amin War
Suicide attack: 2 militants, 5 CRPF personnel killed
Srinagar, July 28
The suicide attack by militants on a security forces camp last night led to the death of two militants and five personnel of the Central Reserve Police Force and injuries to three others in the Dal Lake area here early this morning.

In video (28k, 56k)


Who will compensate us, victims' kin ask NHRC
Exclusion of other districts from list
Saharan Majra (Ludhiana), July 28
A number of families in this district whose "innocent" members were killed in alleged fake encounters during militancy are upset at the decision of the National Human Rights Commission to "ignore" their sufferings and take up illegal cremation cases of unclaimed bodies of just three police districts — Amritsar, Tarn Taran and Majitha — of the state.

Gulzar Singh (right) of Jandiali Khurd, Ludhiana, scans a list of youths killed in fake encounters by the Punjab police. The list was released by the NHRC recently.
— Photo by Mahesh Sharma
THE TRIBUNE MAGAZINES
On Sundays

On Saturdays

IN PASSING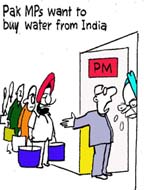 Sir, they are from Punjab, Haryana, Rajasthan...and Pakistan.

by Sandeep Joshi
(Click to enlarge)
Left-govt rift may widen
New Delhi, July 28
The rift between the Left parties and the Congress-led UPA government can widen further, with the Communist Party of India (Marxist) planning to reconsider its nature of relationship with the government.
8 die in fire-cracker factory blast
Jhajjar, July 28
Eight workers, including two women, working in a fire-cracker factory died last evening when some explosive material caught fire while they were manufacturing fire-crackers in the factory room.

Kohli remanded in police custody till August 5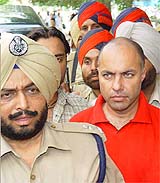 Mohali, July 28
A Kharar court today sent Maninder Pal Singh Kohli, prime suspect in the rape and murder of British teenager Hannah Foster, to eight days of police remand for interrogation in a forged passport case registered here.

In video (28k, 56k)


Punjab: Kohli's brother suspended

Maninder Pal Singh Kohli, prime suspect in the alleged rape and murder of British teenager Hannah Foster being produced at a Kharar court on Wednesday. — Tribune photo by Manoj Mahajan



I raped and killed Hannah, confesses Kohli
Mohali, July 28


Having confessed to have raped and killed 17-year-old Hannah Foster, Maninder Pal Singh Kohli today said he would not oppose his extradition to the UK and was ready to face any punishment for the crime.
FORUM
Surplus Delhi, MP power for Punjab
July 28, 2004
Global Trust Bank to be merged with OBC
July 27, 2004
No power for industry in Haryana
July 26, 2004
Shibu Soren resigns
July 25, 2004
India, Pak vow to fight terror
July 24, 2004
India steps up efforts for release of hostages
July 23, 2004
Where is Sibu Soren?
July 22, 2004
Eradicate terror, India tells SAARC
July 21, 2004
Centre may go in for Presidential reference
July 20, 2004
Cap transfer industry, Manmohan writes to CMs
July 19, 2004