PUNJAB
HARYANA
JAMMU & KASHMIR
HIMACHAL
REGIONAL BRIEFS
NATION
OPINIONS
MAILBAG
BUSINESS
SPORTS
WORLD
ILLEGAL CREMATIONS
Sunday, August 1, 2004, Chandigarh, India
Updated at 3:00 am (IST)

The hostages crisis
Plans to evacuate Indians from Iraq
Bangkok, July 31
Prime Minister Manmohan Singh today said his government was making every effort that was "humanly possible" to secure the release of three Indian hostages in Iraq.
Talks on, KGL ready to pull out
New Delhi, July 31
The government tonight voiced an optimistic note on the hostage issue, saying that the crisis might end soon on a "happy note" as the talks were on.
In video (28k, 56k)



Road blockade continues in Una
Una, July 31
As the family of Antaryami, being held hostage in Iraq, passed another night of distress, village women assembled at his house today morning for a prayer meeting, chanting hymns and invoking the grace of God for hostages' safe return.

An appeal by a child for the release of the three Indians who are held hostage by an Iraqi group, in Ambala on Saturday.
— PTI photo
CAST YOUR VOTE
Is Corbusier's legacy being ignored in Chandigarh?


EDUCATION
JOBS & CAREERS
HEALTH & FITNESS
FORUM
SCIENCE & TECHNOLOGY
SPORTS
WOMEN
TRIBUNE CLASSIFIEDS
BRIDES WANTED
GROOMS WANTED
OTHERS
HOW TO PLACE ADVTS
Today in Women

PM for common front against terror
Bangkok, July 31
Prime Minister Manmohan Singh today cautioned against terrorism and religious extremism and warned that "the areas of conflict are coming closer to us".
In video (28k, 56k)
PM returns
World page: Thai PM urges phone diplomacy among Bimstec leaders



Manmohan Singh
Petrol, diesel prices up
New Delhi, July 31
Public sector oil companies today announced an increase in the prices of petrol and diesel in keeping with the steep rise in international prices of crude oil.
Tainted ministers: PM for national consensus
Bangkok, July 31
Prime Minister Manmohan Singh said today that the RJD and the JMM were powerful constituents of the Congress-led UPA government without whose cooperation the BJP would have come to power.
FORUM
Our new feature, Forum, provides our readers with an opportunity to express their views on vital issues facing the country. The new question being posed is:
"How should criminals be weeded out of the entire political system —Parliament, Legislative Assemblies, the government and political parties?"
Readers are invited to send their letters, not more than 150 words, to: Editor-in-Chief, The Tribune, Sector 29-C, Chandigarh, with the word 'Forum' mentioned on the envelope. The answers can also be e-mailed to: forum@tribunemail.com
H.K. Dua, Editor-in-Chief
THE TRIBUNE MAGAZINES
On Sundays

On Saturdays


PM urges governments to collectively fight poverty. (28k, 56k)


Perspective: Protest against tainted ministers will continue, says Arun Jaitley

Presidential Reference hearing on Aug 2
Chandigarh, July 31
The Presidential Reference filed under Article 143 in the Supreme Court to seek the court's opinion on the Punjab Government's enactment of the Punjab Termination of Agreements Act, 2004, will come up for hearing on August 2.
Punjab page:

Amarinder may succumb to pressure: Badal

CM denies being under pressure

SYL issue: CM to fight it out in court

CM's decision embarrassed Cong leaders, says MP
Haryana page:

SYL: strike threat by BJP

Amarinder's decision on water pacts wrong: Selja

Punjab CM's action 'unconstitutional'

Dismissal of Chautala government sought
India needs N-submarines, says new
Navy Chief
New Delhi, July 31
The new Chief of Naval Staff, Admiral Arun Prakash, today stressed that nuclear submarines were the need of the hour for India but, however, said that it was up to the government to take a decision in this regard.


In video (28k, 56k)


Punjab Vidhan Sabha tapestry sold as junk!
Chandigarh, July 31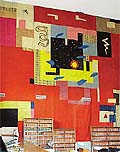 The removal of the tapestry designed by Chandigarh's planner Le Corbusier from the courtroom of the Punjab and Haryana High Court Chief Justice, Mr Justice B.K. Roy, is not an isolated incident of the city being slowly stripped of its heritage.


Chandigarh page: City residents angry at tapestry removal

A file photo of the tapestry hanging from a wall of the courtroom of the Punjab and Haryana High Court Chief Justice before it was removed.

Captors extend deadline
July 31, 2004
Pak hostages executed
July 30, 2004
Sonia does not meet Amarinder
July 29, 2004
Surplus Delhi, MP power for Punjab
July 28, 2004
Global Trust Bank to be merged with OBC
July 27, 2004
No power for industry in Haryana
July 26, 2004
Shibu Soren resigns
July 25, 2004
India, Pak vow to fight terror
July 24, 2004
India steps up efforts for release of hostages
July 23, 2004
Where is Sibu Soren?
July 22, 2004