PUNJAB
HARYANA
JAMMU & KASHMIR
HIMACHAL
REGIONAL BRIEFS
NATION
OPINIONS
MAILBAG
BUSINESS
SPORTS
WORLD
Wednesday, August 18, 2004, Chandigarh, India
Updated at 3:00 am (IST)

Reopen riot cases, SC tells Gujarat
New Delhi, August 17
After assessing various aspects of the Gujarat riots for over a year, the Supreme Court today ordered the re-examination of over 2,000 closed cases by a special cell of the state police under the direct supervision of the DGP to determine if fresh investigation in any of them was required.





CAST YOUR VOTE
Is India performing according to your expectations in the Olympics?

CHANDIGARH
Jalandhar
DELHI
EDUCATION
JOBS & CAREERS
HEALTH & FITNESS
FORUM
SCIENCE & TECHNOLOGY
SPORTS
WOMEN
TRIBUNE CLASSIFIEDS
BRIDES WANTED
GROOMS WANTED
OTHERS
HOW TO PLACE ADVTS
Athens, August 17
Rajyavardhan Singh Rathore has done it. He not only ended the medal drought for India, but also became the country's first individual Olympic silver medallist since Independence.

India's Rajyavardhan Singh Rathore shows the silver medal he won in the men's double trap shooting final at the Markopoulo shooting centre in Athens on Tuesday. — AFP photo

India beat S. Africa 4-2 (Details on Sports page)

Take up joint inspection of lake with China, HP to Centre
Shimla, August 17
The Himachal Pradesh Government has urged the Government of India to once again take up the matter with the Chinese authorities for a joint inspection of the lake formed in Tibet due to blockage of Parchu, a tributary of the Sutlej, by the experts of the two countries even as the latest satellite images indicate that the water body was gradually stabilising and the threat of a flash flood was receding.


Tibet lake may burst soon: Chinese official

Nation page: Chinese team still 500m from Tibet lake
Centre open to talks with insurgents: Patil
Veiled threat to Manipur Govt
New Delhi, August 17
Stating that the Centre is willing to hold "unconditional" talks with "anybody who is willing to talk to us" to bring normalcy in Manipur, Home Minister Shivraj Patil today gave a breather for the Ibobi Singh-led government in the state, saying, "We are giving an opportunity to elected representatives to do their duty, but if they fail, the nation will do its duty".
In Health & Fitness today
THE TRIBUNE MAGAZINES
On Sundays

On Saturdays

IN PASSING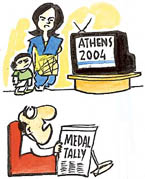 They should introduce iron, aluminium and wooden medals also to motivate our Olympians.

by Sandeep Joshi
(Click to enlarge)
BJP lashes out at govt for failure on Manipur front

Strike cripples life in Manipur

Left divided on Manipur issue

Centre to assist Assam in countering militants
14 feared killed as bus falls into Beas in Himachal
Mandi, August 17
At least 14 persons were feared killed (nine of them feared washed away in the Beas) and nine injured seriously when a private bus failed to negotiate a turn and rolled down 300 feet into the Beas at Jogni Maud, 24 km from here, on the National Highway-21 at 9.30 am today.


Residents and police officials try to take bodies out of the Beas. A bus fell into the Beas, 28 km from Mandi, on Tuesday.
— Photo by Mahesh Chander Sharma
FM to announce cut in petro duties today
New Delhi, August 17
Finance Minister P. Chidambaram is expected to announce reduction in customs and excise duties on petro-products tomorrow, which would help the oil companies to keep oil prices at the prevailing rate despite steep hike international crude prices.


Downpour in region, and more to follow
Chandigarh, August 17
There is heartening news for the north-western region. Weather experts at the Indian Meteorological Department (IMD), Delhi have rated today's rainfall as the best monsoon spell for the northwest in this entire season.


Chandigarh page: City records 58 mm rainfall

Rain a curse for Zirakpur residents


Punjab seeks Rs 100 crore interim flood relief


ILLEGAL CREMATIONS
Tainted ministers' issue rocks Parliament
August 17, 2004
Manmohan moots code of conduct for parties
August 16, 2004
President for overhaul of education system
August 15, 2004
Himachal cloudburst leaves two dead
August 14, 2004
Deluge anytime!
August 13, 2004
Stop terror influx, India tells Pak
August 12, 2004
POTA to be scrapped
August 11, 2004
Kargil PoWs return
August 10, 2004
20 trapped inside Parbati tunnel
August 9, 2004
Release of hostages any moment
August 8, 2004