PUNJAB
HARYANA
JAMMU & KASHMIR
HIMACHAL
REGIONAL BRIEFS
NATION
OPINIONS
MAILBAG
BUSINESS
SPORTS
WORLD
Saturday, August 21, 2004, Chandigarh, India
Updated at 3:00 am (IST)

BJP in a spot over Uma Bharti
New Delhi, August 20
Trapped in a web of its own making, the Bharatiya Janata Party Parliamentary Board is meeting here on Monday to decide the fate of Madhya Pradesh Chief Minister Uma Bharti, who has reportedly been issued a non-bailable warrant against her by a Hubli court.

Nation page

Savarkar, Uma issues rock House

Uma's brother starts dharna

Azad meets Advani on Savarkar issue
CAST YOUR VOTE
Do you think that coaches are to blame for athletes failing the dope test?

EDUCATION
JOBS & CAREERS
HEALTH & FITNESS
FORUM
SCIENCE & TECHNOLOGY
SPORTS
WOMEN
TRIBUNE CLASSIFIEDS
BRIDES WANTED
GROOMS WANTED
OTHERS
HOW TO PLACE ADVTS
Realise Rajiv's dream of alternative fuels: PM
New Delhi, August 20
Prime Minister Manmohan Singh today said his government would endeavour to make India a leader in the new and renewable energy sector in a short time to "realise the dream of Rajiv Gandhi." Releasing a commemorative stamp to mark the 60th birth anniversary of former Prime Minister Rajiv Gandhi, Dr Manmohan Singh said efforts would be made to find a substitute for diesel in the rural economy and asked the ministries concerned to focus on developing alternate fuels.
Prime Minister Manmohan Singh unveils the statue of the late Rajiv Gandhi on his 60th birth anniversary in New Delhi on Friday. Vice-President Bhairon Singh Shekhawat, Somnath Chatterjee and Sonia Gandhi are also seen in the picture. — A Tribune photograph
In video (28k, 56k)

ILLEGAL CREMATIONS
FORUM
Our new feature, Forum, provides our readers with an opportunity to express their views on some of the vital issues facing the country. The new question being posed is:
"How can India make its sportsmen's performance better?"
Readers are invited to send their letters, not more than 150 words, to:
The Editor-in-Chief, The Tribune, Sector 29-C, Chandigarh, with the word 'Forum' mentioned on the envelope. The answers can also be e-mailed to:
forum@tribunemail.com
H.K. Dua
Editor-in-Chief

THE TRIBUNE MAGAZINES
On Sundays

On Saturdays

IN PASSING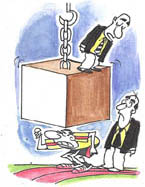 We are now training the Indian players to perform under pressure.

by Sandeep Joshi
(Click to enlarge)
Nation page: PM to stress on manifesto at AICC meeting

Pratima cries foul, Dutt orders probe
New Delhi, August 20
Disgraced weightlifter Pratima Kumari, who has tested positive for a banned substance, has cried foul, alleging that a malignant sports setup has "done her in", while Union Minister for Youth Affairs and Sports Sunil Dutt asserted here today that the guilty will be punished, after unravelling the truth.


In video: Pratima Kumari blames coaches for doping charges.
(28k, 56k)


Editorial: Doping shame
Sports page

IOA panel to probe doping scandal

HC directive on drug use
Four former Bihar MPs join LJP
New Delhi, August 20
A serious political challenge to Railway Minister Laloo Prasad Yadav is in the offing in his own state as the Lok Janshakti Party of Union Minister for Chemicals and Fertilisers Ram Vilas Paswan got a shot in the arm when four prominent leaders from Bihar joined his party here today.
SC reverses HC order in felling case
New Delhi, August 20
The Supreme Court has taken strong exception to the Punjab and Haryana High Court order quashing an FIR in a forest felling case, saying such action could not be permitted.
Transporters' strike today
New Delhi, August 20
Price of vegetables, fruits and other perishable commodities across the country is likely to touch a new high with the truck and tempo operators' unions threatening to launch a nationwide indefinite strike from tomorrow.
Details on Business page


Battle for legacy of Longowal
Longowal (Sangrur), August 20
A battle seems to have broken out for the legacy of Harchand Singh Longowal, former SAD President and the one responsible for signing the Rajiv - Longowal accord on behalf of the Akalis.

Harchand Singh Longowal's sister Sham Kaur and other family members pay homage to the late leader on his death anniversary at Longowal in Sangrur district on Friday. — Photo by Rajesh Sachar

Punjab page: Rajiv-Longowal Accord, waters issue dominate SAD function

In Sports Tribune today
Rise in terror influx
August 20, 2004
Petrol, diesel prices may fall
August 19, 2004
Reopen riot cases, SC tells Gujarat
August 18, 2004
Tainted ministers' issue rocks Parliament
August 17, 2004
Manmohan moots code of conduct for parties
August 16, 2004
President for overhaul of education system
August 15, 2004
Himachal cloudburst leaves two dead
August 14, 2004
Deluge anytime!
August 13, 2004
Stop terror influx, India tells Pak
August 12, 2004
POTA to be scrapped
August 11, 2004
Kargil PoWs return
August 10, 2004