PUNJAB
HARYANA
JAMMU & KASHMIR
HIMACHAL
REGIONAL BRIEFS
NATION
OPINIONS
MAILBAG
BUSINESS
SPORTS
WORLD
Tuesday, September 28, 2004, Chandigarh, India
Updated at 3:00 am (IST)

Talks with Pak to be carried forward
But checking terrorism pre-requisite, says PM
New Delhi, September 27
India will carry forward the ongoing composite dialogue process with Pakistan, Prime Minister Manmohan Singh told mediapersons tonight on his arrival here after a nine-day visit to the United Kingdom and the United Nations.


Nation page: PM to address Plan panel issue on return


CAST YOUR VOTE
Should politicians head sports bodies?

EDUCATION
JOBS & CAREERS
HEALTH & FITNESS
FORUM
SCIENCE & TECHNOLOGY
SPORTS
WOMEN
TRIBUNE CLASSIFIEDS
BRIDES WANTED
GROOMS WANTED
OTHERS
HOW TO PLACE ADVTS



India may not pull out troops from Siachen
New Delhi, September 27
India is unlikely to withdraw its forces from Siachen on the basis of verbal assurances from Pakistan, though British High Commissioner Michael Arthur today told The Tribune that he found the report "interesting" and would like to await New Delhi's response.


India whip Pakistan 4-1

Sandeep scores brace as India thrash Pak 4-1
Quetta, September 27
An under-strength India sprung a major surprise to upset archrivals Pakistan 4-1 and level the four-match hockey series here today. India, who lost the first Test at Karachi narrowly, bounced back strongly to register the convincing victory which was also their first triumph against Pakistan in eight matches. (Details on Sports page)

Schedule for India-Pak hockey Tests

Sandeep Singh celebrates the first goal against Pakistan as he powers India to a 4-1 victory in the second hockey match at Quetta on Monday. — AFP photo

---
In Education Tribune today
THE TRIBUNE MAGAZINES
On Sundays

On Saturdays

IN PASSING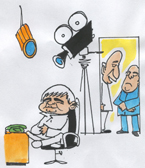 We installed this special equipment so that he remains in office also.

by Sandeep Joshi
(Click to enlarge)
Sports page: SC notices to Centre, BCCI

SC refuses to order night viewing of Taj Mahal
New Delhi, September 27
The Supreme Court today declined to pass order for lifting the ban on night visit to the Taj Mahal to enable tourists to have its view in moonlight.

Attack on gurdwara in Pak
DSGMC to get first-hand account
New Delhi, September 27
Sikh leaders in the Capital today condemned the attack on Nankana Sahib Gurdwara, the birthplace of Guru Nanak. A delegation of the DSGMC will visit the place to get a first-hand account of the incident.


Punjab page: SGPC plea to PM on attack on Pak Sikhs

SC adjourns hearing in 'mass leave' case
New Delhi, September 27
The Supreme Court today adjourned for six weeks the hearing on a public interest litigation raising the issue of 25 judges of the Punjab and Haryana High Court taking 'mass' casual leave on April 19 following alleged differences with the Chief Justice of the court.
EC shifts Kapurthala Returning Officer
Chandigarh, September 27
Taking serious note of allegations against Returning Officer for the Kapurthala byelections Dilraj Singh Sandhawalia, the Election Commission of India today ordered his shifting.
BJP in a fix over role for Uma
New Delhi, September 27
The Bharatiya Janata Party high command is engaged in a serious exercise to find a suitable assignment for former Madhya Pradesh Chief Minister Uma Bharti, who ended her Tiranga Yatra on Saturday.


Britain exported infected blood products to India
London, September 27
Britain has exported blood products that could be contaminated with the human form of mad cow disease to at least 11 countries, including India, raising fears of further transmission of the deadly disease, a leading daily reported today.
In Jobs & Careers today
Sri Guru Granth Sahib - Quadricentenary Celebrations
Athens 2004
Illegal Cremations: NHRC List
G. S. Tohra (1924—2004)
Patiala Heritage Week
Turbans
Chandigarh is 50
EARLIER FEATURES
PM ends US visit
September 27, 2004
We have an open mind on Kashmir, says PM
September 26, 2004
PM, Pervez address Kashmir issue
September 25, 2004
Peace talks with Pak to continue
September 24, 2004
PM for expanding Security Council
September 23, 2004
Bush lauds India's stand on Pak
September 22, 2004
Manmohan Singh, Blair vow to fight terror
September 21, 2004
Reforms to continue, says PM
September 20, 2004
Weed out graft from judiciary
September 19, 2004
Cabinet nod for repeal of POTA
September 18, 2004
Government to probe Census confusion, says Sonia
September 17, 2004