PUNJAB
HARYANA
JAMMU & KASHMIR
HIMACHAL
REGIONAL BRIEFS
NATION
OPINIONS
MAILBAG
BUSINESS
SPORTS
WORLD
Friday, October 8, 2004, Chandigarh, India
Updated at 3:00 am (IST)

India not to sign NPT
We are fulfilling all norms, says PM
New Delhi, October 7
Prime Minister Manmohan Singh today made his maiden policy statement on a sensitive and controversial matter like NPT and dropped enough hints that India was not interested in signing the NPT when he said India was already fulfilling all commitments of the Treaty.
In video (28k, 56k)

Prime Minister Manmohan Singh with German Chancellor Gerhard Schroeder during a welcome ceremony at Rashtrapati Bhavan in New Delhi on Thursday.
— Tribune photo by Mukesh Aggarwal
CAST YOUR VOTE
Should there be more Indo-Pak sports events?

FORUM
EDUCATION
JOBS & CAREERS
HEALTH & FITNESS
SCIENCE & TECHNOLOGY
SPORTS
WOMEN
TRIBUNE CLASSIFIEDS
BRIDES WANTED
GROOMS WANTED
OTHERS
HOW TO PLACE ADVTS

Centre puts north-eastern states on red alert
Guwahati, October 7
After the Centre decided to dispatch 5,000 additional paramilitary forces and use helicopters to locate militants in Assam, Nagaland and adjoining north-eastern states, the entire North-East has been put on red alert.


In video (28k, 56k)


65 pc polling in Arunachal
EC raps govt for violating model code
New Delhi, October 7
The Election Commission today found Dr Manmohan Singh-led UPA government guilty of violating the Model Code of Conduct by announcing the move to set up a commission to look into reservation for minorities.
In Science & Technology today
THE TRIBUNE MAGAZINES
On Sundays

On Saturdays

IN PASSING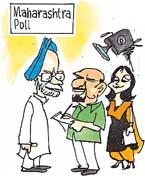 Sir, will you please repeat? It was communalists or communists.

by Sandeep Joshi
(Click to enlarge)
Editorial: PM on quota

Nation: EC has thwarted Cong communal agenda: BJP
Liquor flows as poll date draws near
Kapurthala, October 7
Even as countdown for the Kapurthala byelections has begun, liquor shops in the district and the outskirts have started registering high demand for branded bottles by the political parties contesting in the assembly segment.
Harbhajan Singh Yogi dead


Chandigarh, October 7
America's top Sikh spiritual leader Harbhajan Singh Yogi, whose followers included hundreds of thousands of Americans and Europeans, has died of a heart condition at the age of 75.

Punjab page:

Obituary: Yogi Bhajan — a tireless crusader

Amarinder grieved at Yogi's death
Car bomb kills 40 at Pak religious rally

Islamabad, October 7
At least 40 persons were killed and over 100 wounded early today when a car bomb ripped through a gathering of Sunni Muslims in Pakistan's southern Multan city to mark the first death anniversary of a religious leader.


In video (28k, 56k)

Medics tend to a wounded person after a car bomb explosion in Multan on Thursday.
— Reuters photo


Special article: Political mess in Pakistan


I would have submitted report in 3 months: Phukan


New Delhi, October 7
Justice S N Phukan, who was heading the commission of inquiry into the Tehelka expose, today categorically said that the panel never tried to protect any political personality.

Sri Guru Granth Sahib - Quadricentenary Celebrations
Athens 2004
Illegal Cremations: NHRC List
G. S. Tohra (1924—2004)
Patiala Heritage Week
Turbans
Chandigarh is 50
EARLIER FEATURES
More forces, choppers for Assam, Nagaland
October 7, 2004
10 killed in Assam
October 6, 2004
Patil favours talks with N-E militants
October 5, 2004
Fresh blasts rock Assam; 12 killed
October 4, 2004
Terror strikes in North-East
October 3, 2004
CBI to probe Tehelka scam
October 2, 2004
Foreign experts to go
October 1, 2004
Public servants among 190 in CBI net
September 30, 2004
Diesel to cost more from Oct 1
September 29, 2004
Talks with Pak to be carried forward
September 28, 2004