PUNJAB
HARYANA
JAMMU & KASHMIR
HIMACHAL
REGIONAL BRIEFS
NATION
OPINIONS
MAILBAG
BUSINESS
SPORTS
WORLD

Sunday, October 10, 2004, Chandigarh, India
Updated at 3:00 am (IST)

Charges framed against CM
Gets bail in defamation suit filed by Sukhbir Badal
Chandigarh, October 9
In a significant order, a local court today framed charges against the Punjab Chief Minister, Capt Amarinder Singh, in a defamation case filed by the General Secretary of the Shiromani Akali Dal, Mr Sukhbir Badal.

Punjab Chief Minister Amarinder Singh comes out of the District Courts after charges were framed against him in a defamation case in Chandigarh on Saturday. — Tribune photo by Manoj Mahajan
CAST YOUR VOTE
Should soft drink bottles be required to display ingredients?

FORUM
EDUCATION
JOBS & CAREERS
HEALTH & FITNESS
SCIENCE & TECHNOLOGY
SPORTS
WOMEN
TRIBUNE CLASSIFIEDS
BRIDES WANTED
GROOMS WANTED
OTHERS
HOW TO PLACE ADVTS
In Women today

BCCI moves SC against Madras HC order
New Delhi, October 9
The Board for Control of Cricket in India (BCCI), placed in a piquant situation by a Madras High Court order restraining its new President Ranbir Singh Mahendra and other office-bearers from taking charge, today moved the Supreme Court seeking its stay.
HVP may merge with Cong
New Delhi, October 9
Disappointed with the negative attitude of state BJP leaders, Haryana Vikas Party chief Bansi Lal has made up his mind to go back to the Congress. According to reliable sources, Mr Bansi Lal who did not accept the proposal of merging the HVP in the BJP has given his consent to merge it in the Congress.

THE TRIBUNE MAGAZINES
On Sundays

On Saturdays

IN PASSING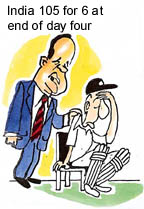 Don't worry. You have a chance to perform better in your ad films.

by Sandeep Joshi
(Click to enlarge)
Captain, 3 others killed in J&K blast
Srinagar, October 9
Four persons, including two Army personnel, were killed and 30 others, including 15 security personnel and 15 civilians, were injured in an explosion on the Srinagar-Baramula highway, near Pattan, in Baramula district this morning.


This is what remains of the car packed with explosives that rammed into an Army convoy at Pattan, 27 km from Srinagar, on Saturday. — Reuters photo
ISI behind N-E blasts: Pranab
New Delhi, October 9
India today reiterated that Pakistan's Inter-Services Intelligence (ISI) was "behind" the serial blasts in the North-East and said it had asked Bangladesh and Myanmar to take action against militants holed up in those countries.
Delhi page
100 shells found in South Delhi
New Delhi, October 9
The discovery of rocket and mortar shells continues at an alarming rate with at least 100 such explosives being detected from a container in the Capital and another four from two trucks in Ghaziabad, bordering Delhi. The police also seized 90 live ammunition, including mortars and rockets, from the godown of a steel factory in Jaipur tonight. — PTI
France misled India on turban issue: DSGMC
New Delhi, October 9
The Delhi Sikh Gurdwara Management Committee, which has decided to move the European Court of Human Rights against the French law banning wearing of turban by Sikhs in government institutions, today accused Paris of having mislead the Indian Government on the issue.
India, Nepal set up panel on flood control
New Delhi, October 9
India and Nepal have constituted a joint technical group to prepare a comprehensive strategy for flood control and adopted a masterplan on flood warning. The two-day meeting of India-Nepal Joint Committee on Water Resources (JCWR), which concluded here yesterday, felt that mutual collaboration in development of hydropower in Nepal would bring immense economic benefits to the two countries.
Sri Guru Granth Sahib - Quadricentenary Celebrations
Athens 2004
Illegal Cremations: NHRC List
G. S. Tohra (1924—2004)
Patiala Heritage Week
Turbans
Chandigarh is 50
EARLIER FEATURES
Madras HC restrains Ranbir
October 9, 2004
India not to sign NPT
October 8, 2004
More forces, choppers for Assam, Nagaland
October 7, 2004
10 killed in Assam
October 6, 2004
Patil favours talks with N-E militants
October 5, 2004
Fresh blasts rock Assam; 12 killed
October 4, 2004
Terror strikes in
North-East
October 3, 2004
CBI to probe
Tehelka scam
October 2, 2004
Foreign experts to go
October 1, 2004
Public servants among
190 in CBI net
September 30, 2004