PUNJAB
HARYANA
JAMMU & KASHMIR
HIMACHAL
REGIONAL BRIEFS
NATION
OPINIONS
MAILBAG
BUSINESS
SPORTS
WORLD
Tuesday, October 12, 2004, Chandigarh, India
Updated at 3:00 am (IST)

SC cancels 297 petrol, kerosene outlets
Allotments 'tainted'
New Delhi, October 11
The Supreme Court today gave approval to the cancellation of 297 allotments of petrol stations and kerosene outlets, made by the previous NDA government, found "tainted" by a two-member judicial committee recommending the setting aside of all of them.


CAST YOUR VOTE
Should the President and the Prime Minister be kept out of the Lokpal's purview?

FORUM
EDUCATION
JOBS & CAREERS
HEALTH & FITNESS
SCIENCE & TECHNOLOGY
SPORTS
WOMEN
TRIBUNE CLASSIFIEDS
BRIDES WANTED
GROOMS WANTED
OTHERS
HOW TO PLACE ADVTS
Rain wreaks havoc in region
Amarinder Singh orders special girdawari
Garhshankar, October 11
The Punjab Chief Minister, Capt Amarinder Singh, today ordered special girdawari in areas affected by unabated spell of moderate to heavy rain since yesterday.


Ludhiana page: Downpour leaves farmers high & dry

Himachal page: Rain brings misery to paddy farmers


| | |
| --- | --- |
| | A distressed farmer of Dhamai village in Hoshiarpur looks at the damage caused to his harvested paddy by heavy rain on Monday. — Tribune photo by Pankaj Sharma |

In Education Tribune today
THE TRIBUNE MAGAZINES
On Sundays

On Saturdays

IN PASSING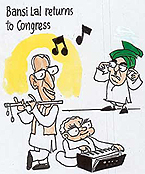 I don't think I can appreciate this new Bansi-Bhajan fusion music.

by Sandeep Joshi
(Click to enlarge)
BJP downplays Modi's remarks on Sikhs
New Delhi, October 11
The BJP today sought to downplay the "joke" reportedly cracked by Gujarat Chief Minister Narendra Modi on Prime Minister Manmohan Singh and the Sikh community, during an election rally in Gujarat and said the party did not discriminate against any person on the basis of his religion or caste.
Punjab page: Khanna refutes Cong charges against Modi

Relief to Ranbir as SC stays HC order
Stay on Dalmiya as Patron
New Delhi, October 11


In a major relief to the newly elected BCCI President Ranbir Singh Mahendra and its other office-bearers, the Supreme Court today stayed the Madras High Court order restraining them from taking charge on the allegations of "irregularities" in the elections.
Lethal scrap: Environment ministry asked to prepare report
New Delhi, October 11
The Monitoring Committee set up by the Supreme Court to implement its order on hazardous waste has asked the Union Ministry of Environment and Forests to prepare a report on the recovery of explosives from metal scrap in western Uttar Pradesh and Delhi even as experts cite a long, recorded history of hazardous waste finding its way into the country and reiterate their demand for stricter regulations.
Accept husband as brother, woman told
Asanda (Jhajjar), October 11
One and a half years after marriage and three months pregnant, a happily married young woman has been directed by a Gotra Khap panchayat to dissolve her marriage and accept her husband as a brother. The woman, Sonia, responded contemptuously to the panchayat dictat saying "I will prefer death".
MS Gill seeks more flights from Amritsar
New Delhi, October 11
The Rajya Sabha MP and former Chief Election Commissioner, Dr M.S. Gill has sought the intervention of Prime Minister Dr Manmohan Singh in securing more flight and improvement of airport in Amritsar.


2nd phase of Indo-US talks from Oct 20
New Delhi, October 11
The implementation of Phase I of Indo-US Next Steps in Strategic Partnership has begun with right earnest and negotiations for the second phase will start on October 20 when US Assistant Secretary of State Christina Rocca holds talks with her Indian counterparts here.

Jobs & Careers
Sri Guru Granth Sahib - Quadricentenary Celebrations
Athens 2004
Illegal Cremations: NHRC List
G. S. Tohra (1924—2004)
Patiala Heritage Week
Turbans
Chandigarh is 50
EARLIER FEATURES
Congress set to retain power in Arunachal
October 11, 2004
Charges framed against CM
October 10, 2004

Madras HC restrains Ranbir
October 9, 2004
India not to sign NPT
October 8, 2004
More forces, choppers for Assam, Nagaland
October 7, 2004
10 killed in Assam
October 6, 2004
Patil favours talks with N-E militants
October 5, 2004
Fresh blasts rock Assam; 12 killed
October 4, 2004
Terror strikes in
North-East
October 3, 2004
CBI to probe
Tehelka scam
October 2, 2004
Foreign experts to go
October 1, 2004
Public servants among
190 in CBI net
September 30, 2004