Hi-fashion khadi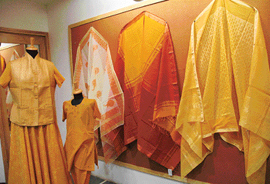 A favourite with both designers and wearers, discounts make khadi more attractive during the festive season. Gaurav Choudhury and Smriti Kak Ramachandran look at the old fabric that has become a new statement of style.
Khadi has always been a fabric with attitude. If in the past its claim to fame was its status as a symbol of resistance against British rule, it has now become a fashion statement.
Fitness notes
Punjabi singers Harbhajan and Gursewak Mann stay in tune by exercising regularly, says Chitleen K. Sethi
This is riyaaz of a different kind. Well-established singers and brothers Harbhajan Mann and Gursewak Mann do not just like to exercise their vocal chords but also their bodies. Major exercise freaks, the two manage to be in the gymnasium for at least 10 hours a week despite hectic shooting and recording schedules.
Oprah snubs Hilfiger
I'm sure many of you must have watched the recent Oprah Winfrey show where her guest was Tommy Hilfiger. On the show, she asked him if the statements about race he was accused of saying were true.