PUNJAB
HARYANA
JAMMU & KASHMIR
HIMACHAL
REGIONAL BRIEFS
NATION
OPINIONS
MAILBAG
BUSINESS
SPORTS
WORLD

Tuesday, October 26, 2004, Chandigarh, India
Updated at 3:00 am (IST)

NCP defers decision on Congress proposal
New Delhi, October 25
The Nationalist Congress Party (NCP) today deferred its decision on the Congress proposal regarding government formation in Maharashtra in an apparent effort to extract a better deal from its ally.
Sharad Pawar authorised to choose leader
CAST YOUR VOTE
Should India set up more nuclear power stations?

FORUM
EDUCATION
JOBS & CAREERS
HEALTH & FITNESS
SCIENCE & TECHNOLOGY
SPORTS
WOMEN
TRIBUNE CLASSIFIEDS
BRIDES WANTED
GROOMS WANTED
OTHERS
HOW TO PLACE ADVTS

| | |
| --- | --- |
| | Congress President Sonia Gandhi and NCP President Sharad Pawar (second from left) during an Iftar party hosted by Union Minister for Chemicals, Fertilizers, and Steel Ram Vilas Paswan in New Delhi on Monday. — PTI photo |
Chandraswami acquitted in St Kitts case


New Delhi, October 25
Curtains finally came down on the St Kitts episode after the 14-year-long legal battle, with a Special Court here today acquitting tantrik Chandraswami in the case.

Chronology of events in St Kitts case

Guru who had high and mighty in his spell
Jobs & Careers
In Education Tribune today

THE TRIBUNE MAGAZINES
On Sundays

On Saturdays

Break engagement, orders panchayat
Kaithal, October 25
Close on the heels of a diktat issued by a panchayat of Asanda village directing a couple to break their marriage and live like brother and sister, the Lohan khap panchayat has directed two families to break engagement of Satyajeet Kadyan of Jakholi village, Kaithal district, and a girl of the Lohan gotra of Ramra Bhain village in Jind district.
CBI finds huge 'donations' to Taj Corridor scam accused
New Delhi, October 25
The CBI today informed the Supreme Court that huge cash donations were made to the accounts of the accused persons in the Rs 175 crore Taj Heritage Corridor scam, which included former Chief Minister Mayawati, but the agency has not been able to establish any link of these transactions with the case so far.
SC declines to stay transfer of TN Governor
New Delhi, October 25
The Supreme Court today declined to pass any interim order on Tamil Nadu's suit, seeking to restrain the Centre from transferring Governor S. Ramamohan Rao to any other state without the consent of state government.
NDFB chief on Interpol wanted list
Guwahati, October 25
Assam Chief Minister Tarun Gogoi has categorically stated that he would not soften his government's stand against the NDFB despite its October 14 ceasefire offer.



The "guest" who wouldn't leave
New Delhi, October 25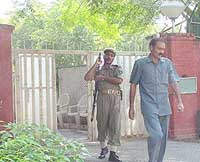 Months after the NDA Government has gone out of office, former Minister for State in External Affairs, Digvijay Singh, continues to occupy his former official residence 15 Lodhi Estate — prime Luyten's bungalow — now officially designated the Rajya Sabha's guest house.

The government bungalow at Lodi Estate in New Delhi which has been designated Rajya Sabha guest house. — Tribune photo by Mukesh Aggarwal

Sri Guru Granth Sahib - Quadricentenary Celebrations
Athens 2004
Illegal Cremations: NHRC List
G. S. Tohra (1924—2004)
Patiala Heritage Week
Turbans
Chandigarh is 50
EARLIER FEATURES
Omar, Farooq survive bomb attack
October 25, 2004
Final decision likely today
October 24, 2004
Decide turban issue by Nov 5, French court tells school
October 23, 2004
Centre ready for talks with Bodos
October 22, 2004
FDI in civil aviation hiked to 49 per cent
October 21, 2004
Sharad Pawar wants Home at the Centre
October 20, 2004
Venkaiah Naidu quits
October 19, 2004
Pawar reminds Sonia of 1999 formula
October 18, 2004
Cong-NCP retains power
October 17, 2004
Setbacks for Punjab Govt
October 16, 2004