PUNJAB
HARYANA
JAMMU & KASHMIR
HIMACHAL
REGIONAL BRIEFS
NATION
OPINIONS
MAILBAG
BUSINESS
SPORTS
WORLD

Friday, November 12, 2004, Chandigarh, India
Updated at 3:00 am (IST)

Yasser Arafat is no more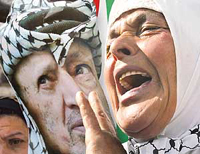 Washington, November 11
Yasser Arafat, the embodiment of Palestinians' struggle for an independent state, died at military hospital outside Paris on Thursday. The Palestinian president was 75.



In video (28k, 56k)

A Palestinian woman cries during a rally following the announcement of the death of Palestinian President Yasser Arafat in the West Bank city of Nablus on Thursday. — Reuters photo


Graphic: Life and times of Yasser Arafat

CAST YOUR VOTE
Should IAF temporarily ground its planes and carry out a safety evaluation?

FORUM
EDUCATION
JOBS & CAREERS
HEALTH & FITNESS
SCIENCE & TECHNOLOGY
SPORTS
WOMEN
TRIBUNE CLASSIFIEDS
Holiday notice
The offices of The Tribune group of newspapers will remain closed today on account of Divali. There will, therefore, be no update of the site on Saturday.

Editorial: Alvida, Arafat

Oped: The face of Palestinian nationalism

After Arafat, who?

World page: Top legislator named interim President

Arafat symbol of Palestinian nation: Kalam
Israelis shed no tears for Arafat

The Tribune wishes its readers a Happy Divali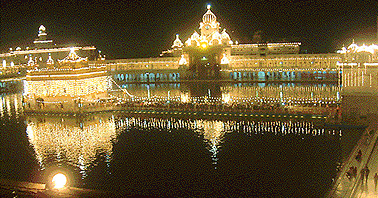 The Golden Temple is all lit up on the eve of Divali on Thursday.
— Tribune photo by Rajiv Sharma

HARYANA: Kidwai: India can become third economic world power


HIMACHAL: Govt funds used for Sonia's rally: BJP


CHANDIGARH: Bitter facts about yummy sweets


LUDHIANA: Guru Nanak Dev Engg college Principal, Dean reinstated


OPINIONS: Alvida, Arafat


BUSINESS: FM lays down roadmap for banking reforms


NATION: UPA, Left meeting postponed


SPORTS: Ganguly's fitness test today

BRIDES WANTED
GROOMS WANTED
OTHERS
HOW TO PLACE ADVTS

THE TRIBUNE MAGAZINES
On Sundays

On Saturdays


The offices of The Tribune will remain closed today on account of Divali. There will, therefore, be no update of Saturday Extra this week.

PM orders reduction of troops in Jammu and Kashmir


New Delhi, November 11
On Divali eve and 12 days before the arrival of Pakistan Prime Minister Shaukat Aziz here, Prime Minister Manmohan Singh exploded a bomb of peace when he ordered the reduction of troops deployed in Jammu and Kashmir.

Pak welcomes move

2.72 cr relief for kin of custodial death victims
New Delhi, November 11
The National Human Rights Commission today ordered the Punjab Government to pay Rs 2.72-crore compensation to the kin of 109 persons who had died in custody during militancy, holding that the state was liable to make monetary amends for infringement on their right to life.


District-wise list of those whose kin will be compensated

Punjab page: Relief too little, too late, says SAD

Illegal Cremations: NHRC List
Marginal rise in sugarcane MSP
New Delhi, November 11
The government today approved a marginal increase in the statutory minimum price for sugarcane at Rs 74.50 per quintal for 2004-05 from Rs 73 a quintal last year, which in real term is no hike at all.
EC orders fresh poll in Mainpuri
New Delhi, November 11
In a major jolt to the Uttar Pradesh Chief Minister and Samajwadi Party leader, Mulayam Singh Yadav, the Election Commission today countermanded the October 13 byelection in the Mainpuri Lok Sabha constituency and ordered fresh poll on December 20.


In video (28k, 56k)


Commission for minority educational bodies soon
New Delhi, November 11
In a bid to woo minority communities, the Congress led UPA government today decided to promulgate an ordinance for creating a national commission for minority educational institutions which would grant direct affiliation to minority educational institutions to a scheduled university.

Uma suspended after protest walkout
November 11, 2004

Arafat is dead, say Palestinians
November 10, 2004

India, EU vow to combat terror
November 9, 2004

Pak proposals to be examined when received, says Patil
November 8, 2004

Centre open to Hurriyat's Pak visit
November 7, 2004

India committed to resolve issues with Pak, says PM
November 6, 2004
Petrol, diesel prices hiked by over Rs 2
November 5, 2004
Bush is US President again
November 4, 2004
Free-for-all in Orissa Assembly, CM injured
November 3, 2004
Bush, Kerry target key states in final hours
November 2, 2004

No increase in petrol, diesel prices
November 1, 2004

Shinde is Andhra Governor
October 31, 2004