PUNJAB
HARYANA
JAMMU & KASHMIR
HIMACHAL
REGIONAL BRIEFS
NATION
OPINIONS
MAILBAG
BUSINESS
SPORTS
WORLD

Wednesday, December 1, 2004, Chandigarh, India
Updated at 3:00 am (IST)


India, China take up border issue
PM reminds Wen of ground realities
Vientiane, November 30
Prime Minister Manmohan Singh told his Chinese counterpart Wen Jiabao here today that the complex boundary issue between the two countries should be dealt with "realistically" after taking into account the existing "ground realities".


In video (28k, 56k)


Framework to resolve border row with China by March, says PM

CAST YOUR VOTE
Should there be surprise checks for the quality of food served as mid-day meals to children?

FORUM
EDUCATION
JOBS & CAREERS
HEALTH & FITNESS
SCIENCE & TECHNOLOGY
SPORTS
WOMEN
TRIBUNE CLASSIFIEDS
BRIDES WANTED
GROOMS WANTED
OTHERS
HOW TO PLACE ADVTS

India, Asean draw contours of economic cooperation
Vientiane (Laos), November 30
Talking of India's vision of a greater Asian Economic Community which found an echo with Japan and some Asean members, Prime Minister Manmohan Singh called for breaking down the North-South disparities and barriers and giving a massive push to economic activities for development and betterment of the people in the Asean region.

Editorial: Towards Asian Community
Power tariff rates cut in Punjab by 3 to 13 per cent
Chandigarh, November 30
Refusing to buckle down under pressure of the Punjab Government, the Punjab State Electricity Regulatory Commission today slashed the power tariff rates by 3 to 13 per cent.

Madras HC reserves order on seer's bail plea
Chennai, November 30
While the Madras High Court today reserved its order on the bail petition of the Shankaracharya in connection with the Sankararaman murder case, the Principal sessions court here adjourned the bail plea hearing to Friday in the Radhakrishnan assault case.

In Health Tribune today
In Jobs & Careers today
THE TRIBUNE MAGAZINES
On Sundays

On Saturdays

Shimla in grip of cold wave
Snowfall in Manali, Srinagar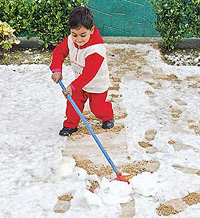 Shimla, November 30
The state experienced a severe cold wave as the entire tribal belt and some pockets in the mid hills had a fresh round of snow. According to reports received here, the tribal Lahaul-Spiti and Kinnaur districts and the higher reaches of Kulu ,Shimla and Sirmour districts were having intermittent snow since last evening.


In video (28k, 56k)
A Kashmiri boy removes snow from his garden in Srinagar on Tuesday. Srinagar witnessed the season's first snowfall on Tuesday. — Reuters photo

Sensex scales past old peak in bull charge
Details on Business page


Mira Nair filmed what she loved
Panjim (Goa), November 30
When Mira Nair was a student at Tara Hall, Shimla, from 1971 to 1974, one book which was her constant companion was William Makepeace Thackeray's "Vanity Fair".


Crocodile boom a 'gnawing' problem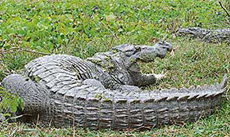 Bhor Saidan (Kurukshetra),
November 30
What started as an effort to preserve the wildlife has turned into a 'gnawing' problem for the Haryana Forest Department.

It is sun-bathing time for this crocodile at the Crocodile Breeding Centre, near Kurukshetra, on Tuesday. — Tribune photo by
Neeraj Chopra

Seer has confessed to murder, TN tells HC
November 30, 2004

Indonesia seeks India's help on defence
November 29, 2004
Soren back in Cabinet
November 28, 2004
Cabinet expansion today; Soren to be back
November 27, 2004
Another rail link with Pakistan on the anvil
November 26, 2004

India, Pak disagree on core issues
November 25, 2004


Natwar, Aziz to go on with talks
November 24, 2004


Seer remanded in judicial custody
November 23, 2004


PM invites ULFA for talks
November 22, 2004
Include Hurriyat in talks, says Pak
November 21, 2004
Seer remanded in police custody
November 20, 2004