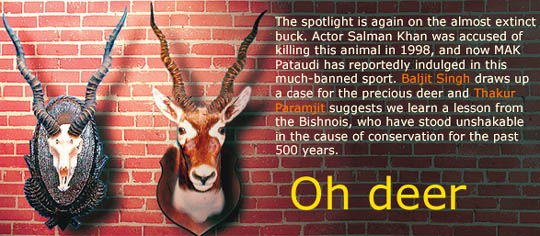 Passing the Buck. This was the title of a 30-minute documentary which I saw in 1985. The film opens to the soft strains of Ravi Shankar's sitar as a prelude to a dramatic sunrise. The sky was awash with shades of pink, flaming orange and pearl-gray moments. As the orb ascended and grew larger, in its centre appeared a black dot. The dot came closer and grew bigger till it attained the profile of an aircraft.

Go the Bishnoi way
Vital Stats
The King is freed
Long live the King
Date of birth: August 29, 1958. Gary, Indiana, USA
Birth name: Michael Joseph Jackson. Nickname: The Gloved One
Wacko Jacko, Jacko, King Of Pop, MJ.
Wattal redefines Indian Idol
Nirupama Dutt
One success story of a poor little boy of Punjab with a song in his soul is all too well known. He was a boy called Pheeto, son of a revered barber, in Kotla Sultan Singh village near Amritsar. Not bothered about studying, he would roam the village singing in the pre-Independence years.