PUNJAB

HARYANA

JAMMU & KASHMIR

HIMACHAL

REGIONAL BRIEFS

NATION

OPINIONS

MAILBAG

BUSINESS

SPORTS

WORLD

Friday, July 29, 2005, Chandigarh, India
Updated at 3:00 am (IST)
200 trapped in landslides
Maharashtra deluge toll 600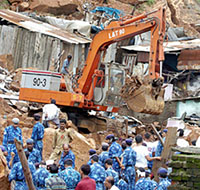 Mumbai, July 28
With heavy rain continuing to lash parts of Maharashtra, the death toll in the state's worst monsoon deluge this year has claimed over 600 lives, according to state government sources.
Rescue workers watch as a mechanical digger removes rubble from a landslide to search for survivors in the Saki Naka suburb of Mumbai on Thursday. — AFP photo


In video (28k, 56k)
Opinions page: Mumbai shows urban India's decay

CAST YOUR VOTE
Is the govt doing enough to check female foeticide?


FORUM

EDUCATION

JOBS & CAREERS

HEALTH & FITNESS

SCIENCE & TECHNOLOGY

SPORTS

SOCIETY

TRIBUNE CLASSIFIEDS

BRIDES WANTED

GROOMS WANTED

OTHERS

HOW TO PLACE ADVTS

special Editorial
Parliament must support the PM
By H.K. Dua
The Prime Minister is to make a statement in Parliament today on his recent visit to Washington, which indeed brought about a qualitative change in relations with the United States. People's reaction to the outcome of the visit in the country has been warm.


Naton page: Pranab defends Defence pact


Special article: Policy and public opinion


Opinions page: India's nuke controls intact


Business page: Govt denies US pressure on Iran-India gas pipeline

Charges framed against Advani, others
Rae Bareli, July 28


Thirteen years after the incident, charges were framed against eight accused, including BJP President L.K. Advani, for "abetment and inciting" karsevaks to demolish Babri Masjid in Ayodhya.


In video (28k, 56k)


Nation page: Advani wants public trust for Ram mandir
12 killed, 16 missing in Bombay High fire
Mumbai, July 28
The death toll in yesterday's mishap off Bombay High at the Oil and Natural Gas Corporation's drilling site has risen to 12, according to Coast Guard (CG) officials. Another 16 persons are said to be missing.
| | |
| --- | --- |
| | |
| | |
| | |
| | |
| | |
| | CHANDIGARH: Hawara's police remand extended |
| | |
| | OPINIONS: Guaranteed jobs |
| | BUSINESS: ONGC fire to hit oil output, refineries |
| | NATION: Certain matters should be left to authorities: Speaker |
| | |
| | |
In Jalandhar Plus today

E - Revolution 2005:
A Two-day IT conclave

Assembly Elections - 2005

Turbans

Chandigarh is 50

EARLIER FEATURES
In Science Tribune today

THE TRIBUNE MAGAZINES
On Sundays

On Saturdays


In video (28k, 56k)


Oil spill noticed at Bombay High


ONGC sets up three-member probe panel


Business page: ONGC fire to hit oil output, refineries


Editorial: High fire



10 die in Shramjeevi Express blast
Jaunpur (UP), July 28
At least 10 persons, including a woman, were killed and 79 injured, 20 of them seriously, when a bomb tore through a compartment of the Delhi-bound Shramjeevi Express train from Patna between Jaunpur and Sultanpur stations near here this evening.


Mixed response to bandh
Mild lathi charge in Gurgaon
Gurgaon, July 28
The call for Gurgaon bandh given by trade unions and individual unions of industrial workers in the city today passed off peacefully and received a mixed response. The call for the bandh was given mainly by the Joint Action Committee of the trade unions functional here.
In videos:

(28k, 56k), (28k, 56k)


Haryana page: Sack Gurgaon DC, SP: SFI


Nation page: CPI refrains from asking Hooda to resign


Delhi page: Faridabad strike plan off; admin breathes easy

Gurgaon DC, SP told to go on leave
July 28, 2005
Gurgaon rocks Parliament
July 27, 2005
DSP among hundreds hurt
July 26, 2005
Troops kill four teenagers
July 25, 2005
Terror, now in Egypt
July 24, 2005
Suspected bomber shot
July 23, 2005
Terror strikes London again
July 22, 2005
PM allays fear of Pakistan, China
July 21, 2005
US recognises India as nuclear state
July 20, 2005
Indo-US ties in for transformation
July 19, 2005