PUNJAB

HARYANA

JAMMU & KASHMIR

HIMACHAL

REGIONAL BRIEFS

NATION

OPINIONS

MAILBAG

BUSINESS

SPORTS

WORLD
Tuesday, August 2, 2005, Chandigarh, India
Updated at 3:00 am (IST)

Mumbai reels under another deluge
Mumbai, August 1
Normal life was affected today as heavy rain disrupted rail and road traffic in different parts of the city and the suburbs. According to the state police and fire brigade, heavy flooding was reported in north and central Mumbai with low-lying areas reporting three feet of floods.
In video (28k, 56k)

A man buys vegetables from a street hawker on a waterlogged street in Mumbai on Monday. — Reuters photo
In video: Film fraternity to sue Maharashtra government for inaction during heavy rains. (28k, 56k)



LUDHIANA

JALANDHAR

AMRITSAR

DELHI

FORUM

EDUCATION

JOBS & CAREERS

HEALTH & FITNESS

SCIENCE & TECHNOLOGY

SPORTS

SOCIETY

TRIBUNE CLASSIFIEDS

BRIDES WANTED

GROOMS WANTED

OTHERS

HOW TO PLACE ADVTS
A Tribune Investigation
Unbranded milk unfit for human consumption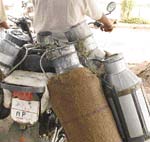 Laced with bacterial water, chemicals
Mohali, August 1
What the milkman brings to your doorstep each morning is not any wholesome stuff but a mix of highly adulterated milk laced with harmful chemicals to increase its shelf life.



How safe is packed milk?
Iran set to resume N-work
Tehran, August 1
Iran was set to resume sensitive nuclear work today, ending a nine-month suspension agreed with the European Union and risking a major international crisis and possible UN sanctions.

India, South Korea ties to become strategic
New Delhi, August 1
India and South Korea today decided to develop the strategic dimensions of their partnership and chalked out a roadmap for achieving this objective within a specific timeframe.
Saudi King Fahd dead


Riyadh, August 1
Saudi Arabia's ruler, King Fahd, died early today in a Riyadh hospital and his brother, Crown Prince Abdullah, has been announced the country's new monarch, the Saudi royal court announced in a statement.


7-day mourning in Pakistan


E - Revolution 2005:
A Two-day IT conclave

Assembly Elections - 2005

Turbans

Chandigarh is 50

EARLIER FEATURES
In Education today
QUOTE OF THE DAY
I have played under other captains, so it should be no problem. I am happy to play anywhere, whatever suits the team, Rahul and Greg.
— Sourav Ganguly
THE TRIBUNE MAGAZINES
On Sundays

On Saturdays

Buta Singh meets Patil
New Delhi, August 1
Amid controversy over the transfer of 17 IPS officers, Bihar Governor Buta Singh tonight had a 35-minute meeting with Union Home Minister Shivraj Patil here.

Nation page:


Cong unhappy with Buta Singh


NDA asks Kalam to remove Buta
SC allows golf at Forest Hill
New Delhi, August 1
In a partial relief to Chandigarh's Forest Hill Resort and Country Club, allegedly built on forest land, the Supreme Court today allowed its members to play golf by imposing stringent conditions that neither any new member would be enrolled nor it would permit any commercial activity within the resort.



Chandigarh page: Verdict brings cheer to Forest Hill members
Magsaysay Award for V. Shanta
Singapore, August 1
Dr V. Shanta, chairperson of Chennai-based Adiyar Cancer Institute, was among those selected for the Ramon Magsaysay Award for public service this year.




Advani must go by October
August 1, 2005

Srinagar terror drama ends
July 31, 2005

No compromise on strategic interests
July 30, 2005

200 trapped in landslides
July 29, 2005

Gurgaon DC, SP told to go on leave
July 28, 2005
Gurgaon rocks Parliament
July 27, 2005
DSP among hundreds hurt
July 26, 2005
Troops kill four teenagers
July 25, 2005
Terror, now in Egypt
July 24, 2005
Suspected bomber shot
July 23, 2005
Terror strikes London again
July 22, 2005
PM allays fear of Pakistan, China
July 21, 2005