PUNJAB

HARYANA

JAMMU & KASHMIR

HIMACHAL

REGIONAL BRIEFS

NATION

OPINIONS

MAILBAG

BUSINESS

SPORTS

WORLD
Sunday, October 30, 2005, Chandigarh, India
Updated at 3:00 am (IST)


BLASTS ROCK DELHI, 60 DEAD
Markets teeming with Divali shoppers, DTC bus targeted
New Delhi, October 29
At least 60 persons were killed and over 200 injured in a series of powerful explosions that ripped through two congested markets and a running DTC bus in the Capital this evening, on the eve of Divali festivities, causing panic among the citizens. Such was the intensity of the blasts that many people in the vicinity of the explosion sites were left in a dazed condition.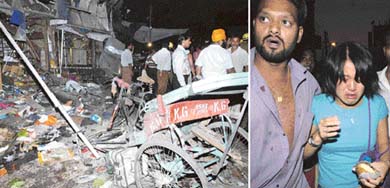 Scattered remains of stalls after a bomb blast in the Paharganj market and (right) an injured foreign tourist is comforted by a local resident in Delhi on Saturday. — Tribune photos by Mukesh Aggarwal
CAST YOUR VOTE
Should criminal charges be filed against the Naval officers dismissed for leaking classified information?
THE TRIBUNE MAGAZINES
On Sundays

On Saturdays

150 die as train derails, falls into rivulet in AP
Hyderabad, October 29
A passenger train derailed after the track gave way due to incessant rains in the early hours of today, killing around 150 persons and injuring many more. Most of the passengers were asleep when the engine and seven coaches of the Repalle-Secunderabad Delta Fast passenger train derailed around 4 am after the track was washed away by flash floods caused by heavy rain in the area.

Nation page:
Lalu regrets loss of life


Engine and compartments of the Secunderabad
-Rippali Delta passenger train that fell into a rivulet after derailing in Nalgonda district of AP on Saturday.
— PTI photo
H.K.L. Bhagat dead
New Delhi, October 29
Former Union Minister H.K.L. Bhagat, the Delhi Congress strongman during the '80s and one of those indicted by the Nanavati Commission in the anti-Sikh riots, died in a city hospital today after prolonged illness.


SC upholds compensation for land acquired by Army
New Delhi, October 29
The Supreme Court has upheld the award of Rs 40,000 compensation per acre to the residents of five villages in Amritsar district for acquiring of their land by Army for expansion of cantonment in 1977, fixed by the Punjab and Haryana High Court.

In Society today

E - Revolution 2005:
A Two-day IT conclave

Assembly Elections - 2005

Turbans

Chandigarh is 50

EARLIER FEATURES
Navy sacks 3 officers
October 29, 2005
Rain cripples Chennai
October 28, 2005
Kalam for policy on death penalty, pardon
October 27, 2005
No consensus on sharing of waters
October 26, 2005
Evict Buta Singh from Delhi house, says SC
October 25, 2005
No Congress decision on power sharing in J&K
October 24, 2005
Open up LoC at 5 points, urges Pak
October 23, 2005
Indo-US N-deal by early 2006
October 22, 2005
Changes in uplinking policy okayed
October 21, 2005
Saddam defiant at trial
October 20, 2005