PUNJAB

HARYANA

JAMMU & KASHMIR

HIMACHAL

REGIONAL BRIEFS

NATION

OPINIONS

MAILBAG

BUSINESS

SPORTS

WORLD
Tuesday, November 8, 2005, Chandigarh, India
Updated at 3:00 am (IST)

Natwar divested of portfolio, but in govt
PM takes charge of foreign ministry
New Delhi, November 7
CAST YOUR VOTE
Should government incentives be used to promote organic farming?


CHANDIGARH

LUDHIANA

JALANDHAR
New

DELHI

JALANDHAR PLUS

AMRITSAR PLUS

LIFESTYLE
New

FORUM

EDUCATION

JOBS & CAREERS

HEALTH & FITNESS

SCIENCE & TECHNOLOGY

SPORTS

SOCIETY

TRIBUNE CLASSIFIEDS

BRIDES WANTED

GROOMS WANTED

OTHERS

HOW TO PLACE ADVTS
In Education Tribune today

Justice Pathak to head judicial probe
New Delhi, November 7
In rapid fire succession, the Manmohan Singh government today announced that former Chief Justice of the Supreme Court R. S. Pathak would head the independent judicial inquiry into the UN's Paul Volcker Committee report which has charged the Congress and Mr K. Natwar Singh of being non-contractual beneficiaries in Iraq's Oil-for-Food scam.

Says he will get to the truth


Justice R.S. Pathak


Congress sends 'legal' letter to UN Secretary-General
New Delhi, November 7
Following up on its earlier announcement, the Congress today sent a "legal" letter to UN Secretary-General Kofi Anan and asked for the documents based on which the Volcker committee report named the Congress as a non-contractual beneficiary of Iraqi oil deals.
THE TRIBUNE MAGAZINES
On Sundays

On Saturdays

Punjab cop with Jagat Singh had fired
Chandigarh, November 7
Even as the Punjab Chief Minister, Capt Amarinder Singh, made a statement today saying no security cover had been provided to Mr Jagat Singh, son of the Union External Affairs Minister, Mr Natwar Singh, the presence of a Punjab Police gunman around Mr Jagat Singh is a mystery.
Pak police fires into air as LoC opens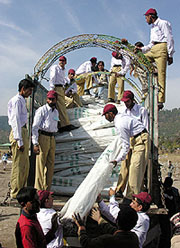 Chakan-da-Bagh (LoC), November 7
It was an emotional moment on the LoC between India and the Pakistan-occupied Kashmir (PoK) here this morning as relief material for victims of the killer earthquake was exchanged between the two countries.


Pakistani workers (in white shirt) and an Indian worker (left) transfers quake relief goods from an Indian truck to a Pakistani truck after opening of a crossing point at the LoC in Gulpur at Poonch, about 250 km from Jammu, on Monday.
— Reuters photo

Court strikes down quota for Muslims
Hyderabad, November 7
The Andhra Pradesh High Court today struck down a legislation of the state government providing for 5 per cent reservation to Muslims in jobs and educational institutions.

After 24 years she still hasn't found her mother
Chandigarh, November 7
Even when Johanna Lindberg (Aarti), a Swedish national, celebrated her 24th birthday yesterday, her earnest desire to see a picture of her biological mother remains unfulfilled. Her mother had left her in a Sector 19 temple here in December, 1981.


E - Revolution 2005:
A Two-day IT conclave

Assembly Elections - 2005

Turbans

Chandigarh is 50

EARLIER FEATURES
Dayal to hold probe into Volcker charge
November 7, 2005

RJD minister quits, Shahabuddin held
November 6, 2005

Volcker: Natwar was notified
November 5, 2005

Govt determined to get to the truth
November 4, 2005
10 killed in Srinagar blast
November 3, 2005
1 to die, 2 get life term in Red Fort attack case
November 1, 2005
Terror-hit Delhi rebounds
October 31, 2005
BLASTS ROCK DELHI,
60 DEAD
October 30, 2005
Navy sacks 3 officers
October 29, 2005
Rain cripples Chennai
October 28, 2005
Kalam for policy on death penalty, pardon
October 27, 2005