Always Amrita, Always Pritam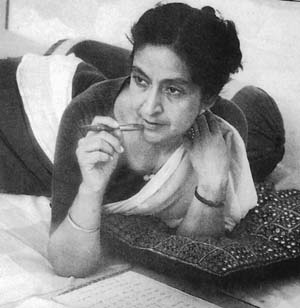 She put Punjabi literature on the world map. No other writer is as synonymous with Punjabi literature as Amrita Pritam (1919-2005), a familiar name even for those not acquainted with Punjabi. She cocked a snook at convention and defied social norms. There was no split between life and literature for Amrita because literature was her life. Gulzar Singh Sandhu on the Grand Dame of Punjabi letters



YOUR life could be contained on the back of a revenue stamp" was Khushwant Singh's cynical remark about the autobiography Amrita Pritam was planning to write. A writer of uncommon passion, Amrita responded to the provocative challenge with an aptly titled Rasidi Ticket (Revenue Stamp).

Maths no problem
PSYCHOLOGISTS at Harvard University have found that five-year-olds are able to grasp numeric abstractions and arithmetic concepts even without the formal education or language to express this knowledge in words.
Spiritual instinct
SHARON Stone, Basic Instinct star and mother of two, has said that her proximity to the Dalai Lama over the last decade, was mainly responsible for making her a more compassionate person, as well as teaching her to be a kinder and gentler speaker.