Return of the huddle
With a dynamic captain and an enterprising coach, a youthful Team India is going great guns, writes Abhijit Chatterjee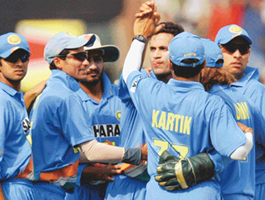 This team has become tough, really tough. Itís not easy to recover from a crushing defeat, but the gritty Indians hit back with a vengeance to level the series against South Africa. Slowly but surely, Greg Chappellís "Vision of excellence" is turning into reality.
Rahul Dravid (left) has several performers in his team who can win matches on their own.
ó Reuters

Big bucks at play
M. S. Unnikrishnan
When Sachin Tendulkar was signed up for a Rs 200-crore staggered sponsorship deal by the late Marc Mascarenhas of WorldTel, a never-before high was set in sports sponsorship in the country. No other player has been able to better that deal, though Sachinís own stock has plummeted over the years, and the latest on the Sachin front is that heís negotiating a fresh sponsorship deal in the vicinity of Rs 123 crore.