FORUM

EDUCATION

JOBS & CAREERS

HEALTH & FITNESS

SCIENCE & TECHNOLOGY

SPORTS

Real Estate
New

SOCIETY

TRIBUNE CLASSIFIEDS

BRIDES WANTED

GROOMS WANTED

OTHERS

HOW TO PLACE ADVTS
HOROSCOPE
Quota cauldron simmers
New Delhi, May 20
As both government and students remain resolute on their respective stands, the quota cauldron continues to simmer with medicos refusing to call off their stir. In response to the government's unwillingness to set up a non-political expert committee to examine the existing reservation policy, doctors have decided to remain off work, despite being served termination letters.

Nation page: PM was aware of quota for OBCs: Arjun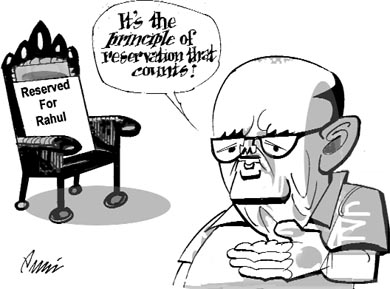 Coop Dept ready with Rs 353 cr relief package for farmers
Chandigarh, May 20
The Punjab Cooperation Department is ready with a package to give relief of Rs 353 crore on the interest on loans advanced by the Punjab State Cooperative Bank and the Punjab State Cooperative Agriculture Development Bank to the farm sector.


In Society today
FORUM
Forum provides our readers with an opportunity to express their views on some of the vital issues facing the country. The new question being posed is:
Should admissions to specialised courses be on the basis of caste or merit?
Readers are invited to mail their letters to:
forum@tribunemail.com
— H.K. Dua
Editor-in-Chief
Capt meets Sonia, Brar waiting in the wings
New Delhi, May 20
Punjab Chief Minister Amarinder Singh today met Congress president Sonia Gandhi to convey his views on public wrangling among some party leaders in the past few weeks over the government's proposal to offer land to Reliance Industries Limited for projects in the state.
Pensioners threaten stir
Patiala, May 20
Around three lakh pensioners of various welfare unions have decided to launch a "jail bharo" agitation from June 9 if the state government fails to implement their already accepted demands. (Details on Punjab page)
OPINIONS PAGE
Nepal: the road ahead
Only a Constituent Assembly can decide
PARLIAMENT has been revived. For the fifth time the veteran leader of the Nepali Congress has begun functioning as Prime Minister.
Contractual staff can't claim
regularisation: SC
New Delhi, May 20
Adding another chapter to the jurisprudence on regularising the services of employees in government sector where the procedure for appointment is well defined, the Supreme Court has ruled that a person who obtained recruitment on contractual basis cannot claim permanent absorption.


"Da Vinci" breaks box office records
Rome, May 20
"The Da Vinci Code" has broken box office records in Roman Catholic Italy as tens of thousands of Italians ignored Vatican calls to boycott the film.
(Details on World page)


E - Revolution 2005:
A Two-day IT conclave

Assembly Elections - 2005

Turbans

Chandigarh is 50

EARLIER FEATURES
Violent pro-quota medicos lathi-charged
May 20, 2006

CRASH OF 2006
May 19, 2006

Medicos to continue stir
May 18, 2006

PM to consult parties on quota issue
May 17, 2006

Doctors say no to Arjun
May 16, 2006
No relook at quota proposals: Arjun Singh
May 15, 2006
Terror strikes demonstrators
May 14, 2006
Anti-quota medicos face teargas, water cannons
May 13, 2006
Left wins in Bengal, Kerala
May 12, 2006
Maharashtra minister gets 1-month jail
May 11, 2006
India, US ink pact on moon mission
May 10, 2006