FORUM

EDUCATION

JOBS & CAREERS

HEALTH & FITNESS

SCIENCE & TECHNOLOGY

SPORTS

Real Estate
New

SOCIETY

TRIBUNE CLASSIFIEDS

BRIDES WANTED

GROOMS WANTED

OTHERS

HOW TO PLACE ADVTS
HOROSCOPE
In Health & Fitness today
Government "backstabbed us": doctors
New Delhi, May 23
Agitating anti-reservation doctors tonight charged they were "backstabbed" by the UPA-Left co-ordination committee's "outrageous" decision to introduce OBC quota from next year and resolved to continue their strike.


Corporates to join anti-quota stir
New Delhi, May 23
After the medicos it is the corporates who have joined the anti-quota juggernaut.



IMA splits, new group favours quota


Mumbai IIT students split on quota


Ludhiana page: Anti-reservation stir gains momentum


Haryana page: IMA calls for strike tomorrow


Himachal page: Protest march by docs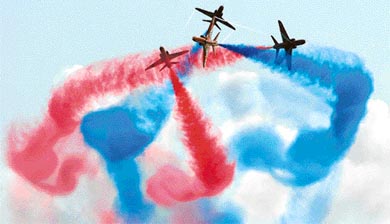 Four Hawks of the Royal Air Force of the UK display their aerobatic skills during 'Konkan-06', the Indo-UK joint exercise, at Goa skyline on Tuesday. — PTI
In Jobs & Careers today
FORUM
Forum provides our readers with an opportunity to express their views on some of the vital issues facing the country. The new question being posed is:
Should admissions to specialised courses be on the basis of caste or merit?
Readers are invited to mail their letters to:
forum@tribunemail.com
— H.K. Dua
Editor-in-Chief

PM's emphatic no to Hurriyat for a separate meeting
New Delhi, May 23
In a determined effort to involve all sections in the political and developmental endeavours in Jammu and Kashmir, Prime Minister Manmohan Singh is leaving for Srinagar tomorrow for the second roundtable conference to evolve mechanisms for tackling security, giving a push to economic development, safeguarding human rights and promote cross-LoC travel and trade.



Editorial: Hurriyat in true colours
Girls outshine boys in CBSE Class XII exams
New Delhi, May 23
Maintaining their lead over boys, girls have as usual outperformed boys in the Class XII examination results of the Central Board of Secondary Education (CBSE) announced today, with the overall pass percentage being 79.55.



CBSE Class X results on May 27
Tribune Impact
Women's panel seeks report on Dalvir case
Chandigarh, May 23
Taking suo motu notice of The Tribune report headlined "NRI divorces wife in US court, she fights back" published today, the Punjab State Commission for Women has sought a detailed status report from the SSP, Hoshiarpur, in the case pertaining to Ms Dalvir Kaur.


216 years on, Army HQ gets new name
Chandigarh, May 23
Army Headquarters (AHQ) has got a new name. It has been formally designated as the Integrated Headquarters of the Ministry of Defence (Army).


E - Revolution 2005:
A Two-day IT conclave

Assembly Elections - 2005

Turbans

Chandigarh is 50

EARLIER FEATURES