FORUM

EDUCATION

JOBS & CAREERS

HEALTH & FITNESS

SCIENCE & TECHNOLOGY

SPORTS

Real Estate
New

SOCIETY

TRIBUNE CLASSIFIEDS

BRIDES WANTED

GROOMS WANTED

OTHERS

HOW TO PLACE ADVTS
Ahamadi to chair panel on Kashmir-Centre ties
New Delhi, June 4
The UPA government has approached former Chief Justice of India, Mr Justice A M Ahamadi to head a Working Group on strengthening relations between Jammu and Kashmir and the Centre. This is one of the five working groups on Jammu and Kashmir promised by Prime Minister Manmohan Singh on May 25 during the second Jammu and Kashmir Roundtable Conference in Srinagar.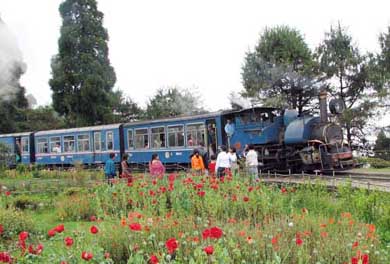 The toy train on its way to Darjeeling at the famous Batasia loop at Darjeeling Hill Station on Sunday. —PTI


HOROSCOPE
FORUM
Forum provides our readers with an opportunity to express their views on some of the vital issues facing the country. The new question being posed is:
Should admissions to specialised courses be on the basis of caste or merit?
Readers are invited to mail their letters to:
forum@tribunemail.com
— H.K. Dua
Editor-in-Chief

Ex-IPS officer shot in train near Patna
Patna, June 4
An armed gang shot dead a retired IPS officer and looted cash and valuables from passengers in an air-conditioned coach of the Rajendra Nagar-Lokmanya Tilak Superfast Express near Patna junction here today, an official said.
Punjab to regularise illegal constructions
Chandigarh, June 4
Probably eyeing a large number of voters ahead of the assembly elections in Punjab, the state government is now working to regularise thousands of unauthorised constructions around Chandigarh.
HC to hear pending cases during vacation
Chandigarh, June 4
Recognising the fact that the long list of cases pending for hearing has shaken the people's confidence in the country's judicial system, the higher arm of the judiciary has now taken upon itself to do something meaningful in this regard.
Disqualification looms large over Amarinder, others
New Delhi, June 4
With President A P J Abdul Kalam withholding his assent on the amendment to the Office of Profit Bill, the fear of disqualification continues to haunt Punjab Chief Minister Amarinder Singh and 200 other MLAs across the country who have been accused of holding office of profit.
(Details in Punjab page)
Amritsar, Ludhiana students shine
Punjab Class XII exam results
Mohali, June 4
Students from Ludhiana and Amritsar have bagged a majority of the top positions in the Punjab School Education Board Class XII examination results.


"Jhalak Dikhla Ja.." fear in Gujarat village
Anand (Gujarat) June 4
Himesh Reshamiya's foot-tapping number "Jhalak Dikhla Ja.." in the film "Aksar" may be a run-away hit but in the non-descript village of Bhalej in this district of Gujarat, the song is a strict no-no .

E - Revolution 2005:
A Two-day IT conclave

Assembly Elections - 2005

Turbans

Chandigarh is 50

EARLIER FEATURES
Moitra poisoned
June 4, 2006

Rahul Mahajan on life support
June 3, 2006

Terror at Nagpur
June 2, 2006

Medicos end stir
June 1, 2006

Joyride ends in tragedy
May 31, 2006

SC notice to govt on quota
May 30, 2006

Govt agrees to examine students' demand
May 29, 2006

Over 3,000 killed in Indonesia quake
May 28, 2006
Medicos meet PM
May 27, 2006
PM says autonomy to be discussed
May 26, 2006
PM proposes 5-point peace agenda
May 25, 2006
3 dead, 26 hurt as ultra rams car into BSF bus
May 24, 2006