Mall-ody rocks Punjab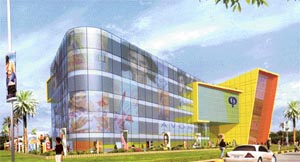 From theme-based malls to product-specific ones, the Land of Five Rivers is going to have them all, asserts Shveta Pathak
Punjab is all set to witness a major retail boom with nearly 40 malls coming up in the state by 2010. More than 30 would be operational in the coming two years. The state, which has been consuming more than others, has become a hot destination for those in this industry.
Shopping along the Zirakpur highway
Credit it on the strategic location or proximity to the tricity, Zirakpur, the erstwhile sleepy township on Chandigarh's periphery, is going the Gurgaon way.
Chandigarh Tourism hotels set for makeover
After Mount View, Shivalik View and Park View are all set to undergo architectural changes, writes Sanjeev Singh Bariana
Realty giants target Holy City
Amritsar wakes up to multiplex culture as property price escalates, observes Varinder Walia
An investors' paradise
With bonhomie in India, Pakistan relations, a large number of investors are showing keen interest in investing in Amritsar — expecting it to emerge as a major trading centre after the opening of border trade in near future.
Problem of plenty in Queen of Hills
Multi-storeyed structures, built up to get good return on investment, lie unutilised, says Rakesh Lohumi
HP gets strict with roof-water harvesting
With thousands of industrial units and apartments coming up in the Baddi-Barotiwala-Nalagarh industrial areas, there is an immense pressure on the groundwater in the region.
Monitoring growth along NH21
Constitution of SADA a double-edged sword, says Kuldeep Chauhan
Russia, Taiwan firms to decongest Hyderabad
Hyderabad is all set to be on the fast lane with the proposed Outer Ring Road (ORR) project, kicking off this June. The Rs 3,000-crore infrastructure project is expected to relieve congestion in the metropolitan area and inner ring road and create options for development of satellite townships.
Mega land deals near Dharavi slums
Bandra-Kurla Complex is the new El Dorado, writes Shiv Kumar from Mumbai
Senior citizen-friendly home!
Install a burglar's alarm where elders are alone, suggests A.P. Singh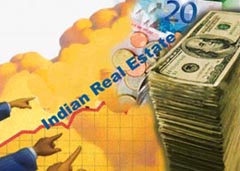 The best is yet to come


Indian realty market may lap up $16 billion as FDI in next 5 years, says R.P. Malhotra
Unfazed by the correction, many of the companies directly or indirectly connected with real estate, have successfully ventured out to raise vast public money through IPOs.
Realty firms may raise Rs 20,000 crore from IPOs
Real estate growth seems to have come out unscathed by gauging the market sentiments, which is yet to fully recover from the recent turbulent conditions, as investors go gung-ho over both the upcoming initial public offers and already listed realty stocks.
TAX TIPS
NRI can remit $1 million per calendar year
Q. I am a senior citizen of India, who migrated to Canada, and am staying with NRI sons there. How can I transfer Rs 28 lakhs to sons by selling property in India?

EmGreen targets MNCs for studio apartments
"India has everything to offer except lifestyle and a good standard of living. It is this fact that we kept in mind while conceptualising Opera Garden in the vicinity of Chandigarh," says Vijay Maingi, Managing Director, EmGreen, the real estate arm of Imperial Group, which is coming up with luxury apartments adjoining Sector 20, Panchkula.
Buzz on Bourses
Dawnay forays into hotels
Mumbai: Dawnay Day has announced its plans to foray into the fast growing hospitality sector in India by launching hotels business venture. Mr Alok Vajpeyi, Vice-Chairman and Managing Director, Dawnay Day AV Financial Services Private Limited, told mediapersons: "The company plans to develop a chain of 30 three and four-star business hotels in India within the next three to five years.
TGI Friday buys stake in Bistro
DLF posts Rs 411-cr profit
GMR IPO by August
Sundaram Fastners
Marg Const allots shares
Unitech in top-30 league
'Dyeing town' gasps for clean air
Owing to the industrial pollution and unplanned growth, Panipat has emerged as the least preferred towns of the National Capital Region (NCR) to reside in. This can be judged from the fact that Haryana Urban Development Authority (HUDA) has been able to develop only two sectors in the past 25 years.
Construction cost up
After hike in interest rate on home loans, a spurt in cement, steel, bricks and other building material costs has impacted the construction industry and consumers drastically. In fact, the cost of construction material including copper and plastic pipes, have gone up substantial with pressure building up on the supply, thanks to the continuing boom in the housing sector in Asia, West Asia and the US.


Global Realty


Pakistani construction workers labour busily on a site of a foreign company in Islamabad. Dubai real estate company Emaar Properties signed a memorandum of understanding with Pakistan for a deal worth $18 billion to build a major leisure and commercial development. — AFP


Using an umbrella to shield herself from the sun, a woman is seen through steel coils near a construction site in Beijing. Chinese steelmakers are ready to cave in on a 19 per cent price rise for iron after drawn-out negotiations with the globe's top suppliers, industry sources said. Following a meeting in Beijing, 16 of China's top steel companies had agreed to give in to the increase being demanded by the world's largest miners of iron, the key steelmaking ingredient. With the nation gripped in development fever, China consumes around 45 per cent of the earth's iron ore, far surpassing any other nation. — AFP