FORUM

EDUCATION

JOBS & CAREERS

HEALTH & FITNESS

SCIENCE & TECHNOLOGY

SPORTS

Real Estate
New

SOCIETY

TRIBUNE CLASSIFIEDS

BRIDES WANTED

GROOMS WANTED

OTHERS

HOW TO PLACE ADVTS
HOROSCOPE
Leipzig, June 11
Arjen Robben powered the Netherlands to a vital 1-0 win over Serbia and Montenegro in their first World Cup Group C game here today.

(More stories on Sports page)

The Netherlands' Arjen Robben (right) scores his team's first goal as Serbia and Montenegro's goalkeeper Dragoslav Jevric tries to stop the ball during their Group C World Cup 2006 soccer match in Leipzig on Sunday. — Reuters
CITU leader, 2 labourers beaten to death
Involvement of Chamera project contractor alleged
Chamba, June 11
Baboo Ram, district president of CITU, and two labourers were beaten to death and their bodies thrown into the Ravi at Dakog on the Chamba-Bharmour highway, around 47 km from here, last night.
Govt considering hike in SC quota, says Meira Kumar
New Delhi, June 11
In a move that may further fuel the quota controversy, the Social Justice and Empowerment Ministry is "favourably" considering raising reservations for Scheduled Castes from the existing 15 per cent to 16.23 per cent following the increase in their population.


In video (28k, 56k)
| | |
| --- | --- |
| | |
| | |
| | |
| | |
| | CHANDIGARH: Encroachment 'trade' flourishing in city: report |
| | LUDHIANA: Father, son held for setting bride afire |

FORUM
Forum provides our readers with an opportunity to express their views on some of the vital issues facing the country. The new question being posed is:
Should admissions to specialised courses be on the basis of caste or merit?
Readers are invited to mail their letters to:
forum@tribunemail.com
— H.K. Dua
Editor-in-Chief



Amarnath Yatra suspended due to snowfall, landslides
Srinagar, June 11
Heavy snowfall and landslides led to the suspension of the Amarnath Yatra today.
Petrol price hike unjustified, panel member to PM
New Delhi, June 11
Strongly opposing the increase in petrol and diesel prices, member of the Parliamentary Committee on Finance and PAC C. Ram Chandraiah has urged Prime Minister Manmohan Singh to reduce excise duty on these items.



Diesel prices cut marginally in TN

Immolation bid over 'Fanaa'
Ahmedabad, June 11
Scaling up the protest against Bollywood actor Aamir Khan whose remarks on Narmada dam oustees kicked off a controversy, a man torched himself in the "Amber" cinema hall in Jamnagar, the only one in the state screening the star's latest movie "Fanaa". — PTI


Ex-Major may get pension after 59 years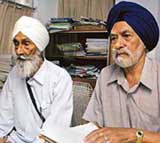 Chandigarh, June 11
In a country which dotes on its brave and misses no opportunity in hailing the sacrifices of the freedom fighters, the case of Major Gurdit Singh (retd) is unique.
Brothers-in-arm! (From left) Major Gurdit Singh (retd) and his cousin, Major Narinder Singh Jallo (retd), in Chandigarh on Sunday. — Tribune photo by Vinay Malik



E - Revolution 2005:
A Two-day IT conclave

Assembly Elections - 2005

Turbans

Chandigarh is 50

EARLIER FEATURES
No review of quota policy, says FM
June 11, 2006
HC stops Jat Mahapanchayat
June 10, 2006
Al-Qaida's Zarqawi killed in US air raid
June 9, 2006
Rollback of petro prices ruled out
June 8, 2006

Congress joins petro price hike protest
June 7, 2006

Rahul Mahajan arrested
June 6, 2006
Confusion over use of drugs by Rahul
June 5, 2006
Moitra poisoned
June 4, 2006
Rahul Mahajan on life support
June 3, 2006
Terror at Nagpur
June 2, 2006
Medicos end stir
June 1, 2006