CHANDIGARH

LUDHIANA

JALANDHAR
New

DELHI

HIMACHAL PLUS
New

AMRITSAR PLUS

LIFESTYLE
New

BRIDES WANTED

GROOMS WANTED

OTHERS

HOW TO PLACE ADVTS
In Sports Tribune today

Review of UPA Chairperson's security at the highest level; security agencies would advise her against road shows and mingling with the public during election campaigns

Of fishermen and prisoners
Pakistan's stand riles India
New Delhi, December 22
The all-important question of trust deficit is haunting the Indo-Pak relations yet again. This time on the petty but humanitarian issue of release of prisoners and fishermen.


| | |
| --- | --- |
| | 'One day, we will be in the valley again' — Ishrat and wife Salma after they were repatriated on Friday. — Photo by Rajiv Sharma |
Haryana Drug Policy
Draw of lots to allot chemist shops, canteens in health centres
Chandigarh, December 22
Allotment of chemist shops, canteens, STD booths and tea/ juice kiosks in various district hospitals and Community Health Centres across the state, including PGIMS, Rohtak, will now be done through draw of lots.


India: The Tasks Ahead
SPECIAL SUPPLEMENT
125TH ANNIVERSARY CELEBRATIONS,
INAUGURAL SESSION
HOROSCOPE
In Amritsar Plus today
In Real Estate today

FORUM
Forum provides our readers with an opportunity to express their views on some of the vital issues facing the country. The new question being posed is:
How can Indian hockey be saved?
The answers can be
e-mailed to:
[email protected]
H.K. Dua
Editor-in-Chief

Mohan replaces Gowda as JD(S) chief
Thiruvananthapuram, December 22
The turmoil in the JD(S) after a section in the party aligned with the BJP to form ministry in Karnataka, has led to a virtual split in the party with the camp led by Lok Sabha member M.P. Veerendrakumar today removing H.D. Deve Gowda as party president and choosing veteran socialist Surendra Mohan in his place.
Cong men upset with Govinda
Mumbai, December 22
Congress party chief Sonia Gandhi who will address a rally in Mumbai on Saturday as part of the campaigning for elections to the Brihanmumbai Municipal Corporation will have to do a bit of firefighting while in the city.
YouTube helps nab suspect
Toronto, December 22
A video posted on the ultra-popular website YouTube has helped Canadian police find a man they believe responsible for a murder.


Joy @ FedEx
In Cuddalore, some goodwill hunting
Cuddalore (Tamil Nadu), December 22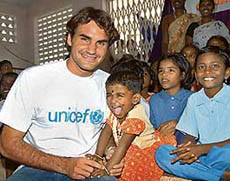 The world's ace tennis player Roger Federer was thrilled today as he took time off from the court and chatted with tsunami orphans at a small village in this district 230 km from the state capital of Tamil Nadu.

E - Revolution 2005:
A Two-day IT conclave

Assembly Elections - 2005

Turbans

Chandigarh is 50

EARLIER FEATURES
N-deal concerns remain: PM
December 22, 2006

Life term for Manu
December 21, 2006

India free to conduct nuke tests: Pranab
December 20, 2006

Manu guilty; Lalu not
December 19, 2006

Kot-Bhalwal jail riot leaves 36 injured
December 18, 2006
Rumble in Bhutan
December 17, 2006
Nuclear deal: Japan to wait & watch
December 16, 2006
Punjab Vigilance Bureau on 'clean chit' spree
December 15, 2006
Nuke-deal: Beijing cools down
December 14, 2006
National interest sole guide: Pranab
December 13, 2006
PM's remarks: Govt rules out apology
December 12, 2006