PUNJAB

HARYANA

JAMMU & KASHMIR

HIMACHAL

REGIONAL BRIEFS

NATION

OPINIONS

MAILBAG

BUSINESS

SPORTS

WORLD

ADVERTISEMENT
ADVERTISEMENT
ADVERTISEMENT
Wednesday, January 24, 2007, Chandigarh, India
Updated at 3:00 am (IST)

Amritsar Seat
It's Sidhu vs Singla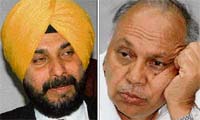 New Delhi, January 23
Following an unprecedented Supreme Court verdict staying the conviction of cricketer-turned-politician Navjot Singh Sidhu's in a road rage case, the Bharatiya Janata Party today moved swiftly renaming him as its candidate from the Amritsar Lok Sabha seat, which he had quit last month.

In video (56k)
Two Malwais, both Patialvis, to cross swords in land of Majhails
Chandigarh, January 23
Two Patialvis, Mr Navjot Sidhu of the BJP and Mr Surinder Singla of the Congress, will battle it out for Amritsar- the heart of Majha. The two from Malwa will match swords in Majha. The removal of the DGP, Mr S.S. Virk, by the Election Commission, had come as a shock to the Congress.



Punjab page: SC order on Sidhu will boost SAD-BJP fortunes


Nation page: SC relief for Sidhu
No review of list: Amarinder
Chandigarh, January 23
"There will be no change of candidates. We hope to get between 70 and 75 seats and break the jinx that no party in Punjab has been in power for two terms in a row.", says Punjab Chief Minister Capt Amarinder Singh.
CAST YOUR VOTE
Should the laws made under the Ninth Schedule of the Constitution be reviewed?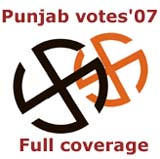 ADVERTISEMENT