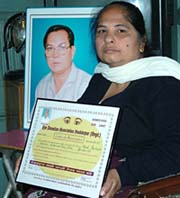 Two eyes set for a new voyage
Even though Ved Prakash Arora, 65, is dead but for many he is still alive and can see them. Before succumbing to his heart ailment a fortnight ago, Ved pledged his eyes for donation to the needy. And now he can see the world through his donated eyes.



Sushma Arora, the widow of Ved Parkesh Arora with the certificate of eye donation of her husband. — Photo by S.S. Chopra

DCI chief praises Govt Dental College
The government should immediately close the dental colleges which do not fulfill the norms laid down by the Dental Council of India (DCI) .No new dental colleges should be allowed till the existing colleges have adequate faculties.
Verka-Wagha road to be four-laned
The four-laning of 49-km highway from Dhilwan to Verka is expected to be completed by this year with the expenditure of Rs 263 crore. This was stated by Akil Ahmad, project director, National Highways Authority of India, at a function of the Rotary Club Amritsar Midtown here recently.
Course on architectural practices
The contemporary architecture is under rapid transformation throughout the world. The development in architecture is the result of an integrated approach towards architectural form and aesthetics.
Weekly round up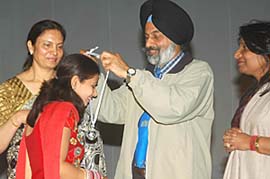 Yoga championship held
The yoga team of the BBK DAV College for Women won the Guru Nanak Dev University inter-college yoga championship held here recently. The college team won 414 points, while HMV Jalandhar and BD Arya College, Jalandhar, were runners-up with 382 and 368 points, respectively.
Dr Jai Rup Singh, vice-chancellor, Guru Nanak Dev University, honours a student during the prize distribution function of Apeejay College of Fine Arts in Jalandhar on Tuesday. — Tribune photo by Pawan Sharma
Tourism plans for Sultanpur Lodhi
Sultanpur Lodhi will be developed as religious tourist destination, said Punjab minister Upinderjeet Kaur at Gurdwara Ber Sahib.