PUNJAB

HARYANA

JAMMU & KASHMIR

HIMACHAL

REGIONAL BRIEFS

NATION

OPINIONS

MAILBAG

BUSINESS

SPORTS

WORLD


Every Wednesday & Saturday

Big plans for Rajasansi airport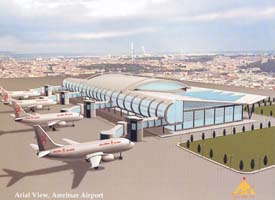 The Airport Authority of India (AAI) has embarked upon an expansion programme for Rajasansi Airport to put it in league with the top international airports in the country.
An ariel view of the Rajasansi International Airport.
Alarm bells ring for diabetics
Tribune News Service
An alarming 45-50 per cent of those suffering from diabetes are developing heart disease. This was disclosed by Dr Arun K Chopra, senior consultant, Interventional Cardiology, Escorts Heart and Super Specialty Institute in Amritsar.
Rai Sikhs: Tigers of border belt
March 3, 2007
Rebels cause Congress' debacle in city, BJP records impressive gains
February 28, 2007
A day for mother tongue
February 24, 2007
A reunion goes up in smoke
February 21, 2007
KOT KHALSA: The land of Sikh chieftains who plugged Khyber Pass
February 17, 2007
Thousands denied right to vote, rain fails to dampen spirit
February 14, 2007
Rebels rally to spoil candidates' party
February 10, 2007
A village too far
February 7, 2007
It is Singla's vision versus Sidhu-ism ?
February 3, 2007
Dishum-dishum on cards now ?
January 31, 2007