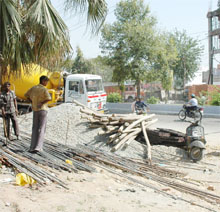 Apathy takes sheen off Mall Rd
Amritsar, April 13
The Mall Road, which literally means a shady way meant for walking, has become one of the most polluted roads of the city. Once a paradise for morning walkers, who used to walk, exercise and liked to breath in the fresh air of huge shady trees, the place is not fit for a stroll even. Thanks to the sand and earth lying gathered on the sides of the roads.


Construction material lying on the road. — Photo by Rajiv Sharma

In Dire Straits
City's green lungs on life support
Amritsar, April 13
The green belt that was developed with an idea to give a beautiful and hygienic impression holy city to the tourists is in shambles owing to the lackadaisical attitude of the district administration in maintaining the same.
My City
Revamp needed
The city of Golden Temple is abode of spiritual bliss and solace. But the city with a glorious past needs to revamp its civil system and the district administration needs to wake up from its slumber.
'Udaan' marks a new beginning
Amritsar, April 13
Senior Associate Editor of The Tribune, A.J.Philip, released a compilation of essays titled 'Udaan', at Citizens Forum Vidya Mandir, a school for children of drug addicts of Maqboolpura locality.
Baisakhi fervour: KSS jatha reaches Pak
Amritsar, April 13
A 42 member jatha of Kesh Sambhal Sanstha (KSS), led by S.J.S. Pall, retired chief commissioner income tax crossed to Pakistan for the first time to celebrate 'Baisakhi' festival there.
PSB opens new branch
Amritsar, April 13
The Punjab and Sind Bank (PSB) should accelerate the credit off take to meet the corporate sector's requirements. This was said by information and public relation minister Bikram Singh Majithia, while inaugurating PSB's branch at Ranjit Avenue.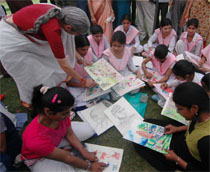 Soaked in hues of patriotism
Amritsar, April 13
Schoolchildren were given lessons in patriotism even as hundreds of visitors converged on the Jallianwala Bagh on April 13 to pay tributes to those who laid down their lives for the freedom struggle.




Health minister Laxmi Kanta Chawla (R) takes a look at one of the artworks. — Photo by Rajiv Sharma

They come here to salute the spirit of freedom
Amritsar, April 13
Eighty eight-year-old Chanchal Singh can hardly walk but he made it a point to come down to Jallianwala Bagh from his Bakipur village adjoining Tarn Taran on Baisakhi day.
Medical camp: FCI staffers examined
Amritsar, April 13
A medical camp was organised for the employees of the Food Corporation of India (FCI) at the multi specialty Escorts Hearts and Super Specialty Institute here.
Spring Dale strolls down memory lane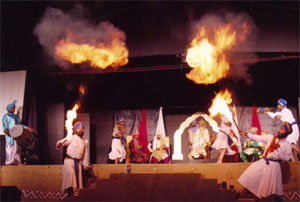 Amritsar, April 13
Punjab, the land of five rivers, an integrated cultural history is a treasure trove for all. However, it's the misfortune of the people of this land of gurus and historical embodiments, who seem to have forgotten the glorious values existing in those times.



CHILD'S PLAY: Student of the school perform a play on Maharaja Ranjit Singh. — A Tribune photograph