ART & LITERATURE

'ART & SOUL
ENTERTAINMENT

TELEVISION

GARDEN LIFE

NATURE

FOOD TALK

CONSUMER RIGHTS

HOLLYWOOD HUES

BRIDGE

ULTA-PULTA
EARLIER FEATURE

TRAVEL

RELATIONSHIPS

DREAM THEME

TIME OFF
FOOD FOR THOUGHT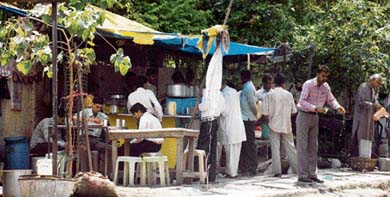 A city lives on its stomach and roadside food provides the city not only sustenance but also spirit. It sustains both those who cook it and also those who depend on its ready availability. Roadside food-sellers who cater to all sections—labourers, rickshaw-pullers, office-goers, students, travellers and visitors—are an integral part of city life. In the effort to sanitise urban life and apply BIS standards, can we afford to lose sight of the millions who depend on roadside food for their survival. Can they be wished away and their right to work be denied? Tribune correspondents from Delhi, Mumbai, Kolkata, Amritsar and Ludhiana report
"We cannot fight the government"
The recent ban on street food is bound to affect the livelihood of more than 3 lakh people, reports Vibha Sharma from Delhi
Last month the Supreme Court gave its final approval for regulations on hawking and vending activities, which also includes a ban on roadside cooking, except serving tea and coffee.

The great equaliser
In Kolkata, it is not only the working class but also babus and ministers who patronise roadside food, reports Subhrangshu Gupta
Anjali Dutt, a middle-aged working woman at Writers Buildings, lives in a rented flat at Beliaghata with her daughter and son, both studying in colleges.
Heart beats for roadside delights
Take the food stalls away from Ludhiana and you take away a lifeline, writes Kanchan Vasdev
Ludhiana's inhabitants, be it in the heat of summer or dead of night, are not deterred from making a beeline for food stalls, such connoisseurs of food are Ludhianvis. They feast on Pandit's round-the-clock paranthas in Ghaas Mandi.The eatery, being managed by the third generation of Panditji, witnesses rush even during the wee hours. Traffic jams occur here at the dead of night.
Mumbaikars don't care about risks
Roadside food keeps the city alive at all times and one can't imagine life without it, reports Shiv Kumar
The Supreme Court order banning cooking of food in the open has begun to be enforced strictly in some parts of Mumbai while business continues unhindered in most parts of the city. The crackdown on cooking of food gathered steam after a young girl died shortly after eating Chinese food cooked at a roadside stall some time back. After Vishakha Kokate, 17, died suddenly at her home in Thane, doctors confirmed that she could have consumed something poisonous as part of the meal.
Eat and be Amritsari
The food culture of this city is legendary, reports Varinder Walia
Imagine life in Amritsar without the mouthwatering roadside foods. If the recent Supreme Court ban on cooking food items on the roadside in Delhi is extended to Amritsar, it would spell doom for scores of vendors, especially migrants. Residents would be deprived of the famous Amritsari kulcha, pav bhaaji and tikkis.
World's largest open-air laundry
The dhobhighat is situated in the centre of Mumbai. It attracts flocks of tourists, thrilled by the sight and sound of the site. There is nothing like it anywhere in the world, writes Raghavan Pillai
The dhobighat at Mahalaxmi in Mumbai will now find its place on the city's tourist map, thanks to the efforts of the Brihanmumbai Municipal Corporation (BMC). The civic body has finally decided to designate it as a tourist spot, as it has attracted flocks of tourists thrilled by the sight and sound of dhobis washing, drying and ironing clothes.
(Pushpesh Pant is away on holiday. His column Food Talk will not appear this week.)
Bangkok
The happening city
It offers a heady mix of the modern with the traditional. D.B.N. Murthy visits the city of temples, which is also famous for its nightlife and exotic food fare
There is magic in the air as one walks in the streets of this great city Bangkok, known as Krungthep, City of Angels. There are food carts everywhere serving hot delicacies. Seafood lovers have a great choice — one could choose one's fish, turtles or squid right from the restaurants' fresh water tank. Durian, the fruit that resembles our own jackfruit, has its own votaries.
More movies for kids this summer
Snehesh Alex Philip
With bookings for Spiderman movie still going full, it seems like he has indeed cast his web on children who were eager to enjoy the hot summer ahead. And, it is not only Spiderman who is casting his web, but likes of Shrek and Captain Jack Sparrow too have planned to imitate Spiderman with both Shrek 3 and Pirates of the Caribbean III looking all set to woo the children in the coming weeks.
Karan's style quotient
Do clothes maketh a man? Karan Johar, currently the cover boy of a fashion magazine , discusses his style mantra. Did he ever imagine that some day he would be a cover boy on a fashion magazine?
I owe it all to Captain Jack's role: Johnny Depp
Hollywood actor Johnny Depp revealed that he was not a "Blockbuster Boy" prior to Pirates of the Caribbean movie series.
There's no Hollywood invasion
Shakuntala Rao
This summer belongs to Hollywood", screams the headline of a national news daily. It began with the stupendous success of Spider-man 3 at the box-office. No doubt that everyone at Precept and SONY (the film's distributors) are ecstatic given that Spider-man 3 made more money in its first two weeks than all Bollywood releases put together in the first five months of 2007.
Blue-eyed legend
Paul Newman's decision to quit films has disappointed his fans. Vikramdeep Johal on the high points of the versatile veteran's career
His piercing blue eyes and chiselled features would've sufficed to make him a Hollywood star. Such stardom, however, would've been superficial, only skin-deep. With histrionics to match his looks, Paul Newman has wowed audiences for the past over five decades.
Clint Eastwood's biggest fan
If there's one director in Hollywood that legendary actor Anthony Hopkins holds in the highest regard, it would be Clint Eastwood.


Caesarian births are the trend
Fast-track deliveries have gone up dramatically in Indian metros despite the risks involved. Delhi's leading hospitals report an alarming spiral in the number of C-sections amongst the city women, reports Neeta Lal
IN keeping with Delhi's dizzying urban growth trajectory, its would-be-moms are also rooting for fast-track deliveries.
World's longest, most expensive saree
The world's longest and most expensive silk saree — measuring 486 metres— and depicting India's cultural heritage will be on auction in Sharjah shortly. "We expect it to be sold to a prestigious buyer or a museum," said Beena Kannan, CEO of Kerala-based Seematti Textiles, which has designed the traditional Indian attire.
Shades of the season
Go in for warm yet muted colours this summer, says Ritusmita Biswas
If you thought summer was a time to go pastel and pristine white, then think again. This summer the colours are in and 'just white' is out.
'Hero' barber's centenary celebrations
The birth centenary celebrations of Variappan, a barber who refused to serve the British way back in 1930, was recently celebrated by the people of Vedaranyam, near Porayar in Tamil Nadu.