PUNJAB

HARYANA

JAMMU & KASHMIR

HIMACHAL

REGIONAL BRIEFS

NATION

OPINIONS

MAILBAG

BUSINESS

SPORTS

WORLD

CHANDIGARH

LUDHIANA

JALANDHAR

DELHI

HIMACHAL PLUS

HARYANA PLUS

AMRITSAR PLUS

LIFESTYLE
Saturday, September 8, 2007, Chandigarh, India
Updated at 3:00 am (IST)

| | |
| --- | --- |
| An accountability court in Rawalpindi on Friday declined the request of the government to issue an arrest warrant against former Premier Nawaz Sharif and brother Shahbaz Sharif in corruption and bank fraud cases filled against them by the National Accountability Bureau. | Shahbaz Sharif (left) with brother Nawaz. — File photo |

Mush will contest in uniform


World page: Boucher in Pak for strategic talks

Students first, leaders later: SC

New Delhi, September 7
Asserting that it would not brook any indiscipline in the university campuses, the Supreme Court today observed that the country needed good students and not full-time leaders engaged in "goondagardi" and "dadagiri".
"... what we have today is full-time leaders and part-time students. We will not allow that type of situation in this country...
CAST YOUR VOTE
Does India need a federal anti-terror agency?

ADVERTISEMENT
ADVERTISEMENT

BRIDES WANTED

GROOMS WANTED

OTHERS

HOW TO PLACE ADVTS
Bribe-taking Lt Col faces court martial
Chandigarh, September 7
A Lieutenant Colonel, posted in the recruiting directorate at the Army Headquarters, is being tried by a general court martial for allegedly accepting a bribe to ensure an engineering graduate's selection in the Army as an officer.
Maoists target ex-CM Reddy
Three killed in Andhra Pradesh attack
Hyderabad, September 7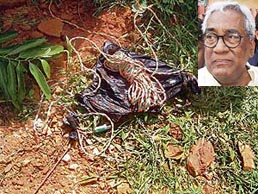 Maoists triggered a landmine blast today, targeting former Chief Minister N. Janardhan Reddy and his wife Rajyalakshmi, a state minister. They escaped unhurt but three persons were killed.
Part of the device used in an explosion near Chitvedu village of Nellore district on Friday; and (inset) N. Janardhan Reddy. — PTI photos


In video (56k)

72 pilgrims die in mishap
Udaipur, September 7
At least 72 pilgrims were killed and over 130 wounded when a truck carrying them fell into a gorge near Desuri Ki Naal village in Rajsamund district, about 150 km from here, tonight.

| | |
| --- | --- |
| | |
| | HARYANA: INLD workers burn effigies of Cong MP |
| | HIMACHAL: Cong to sue TV channels |
| | |
| | CHANDIGARH: Dara Singh's son beats up wife, held |
| | LUDHIANA: Gyaspura elected mayor unopposed |
| | |
| | OPINIONS: Exercise good sense |

In Amritsar Plus today
HOROSCOPE

E - Revolution 2005:
A Two-day IT conclave

Assembly Elections - 2005

Turbans

Chandigarh is 50

125 Years of The Tribune
India: The Tasks Ahead

EARLIER FEATURES
Our Chosen Ones
Jind: So, what was MP Atma Singh up to?
Jind, September 7
Congress party MP from Sirsa Atma Singh Gill has been accused of immoral trafficking. Hundreds of workers and supporters of the Indian National Lok Dal today gheraoed the government rest house at Narwana town alleging presence of two women in the room of Gill, who had checked in while on the way to his home town, last night.
Cong MP granted bail, re-arrested
Kolkata, September 7
The Congress MP, Adhir Chowdhury, was re-arrested today soon after he was granted bail on the twin-murder case at the Behrampore court today. He was arrested in a separate case in the killing of a CPI(M) anchal pradhan at Ketugram, Govardhan Ghosh, in 2003.

Extortion case against another

Today is International Literacy Day
One in every two students drops out
New Delhi, September 7
Even as India observes International Literacy Day on Saturday, a study has found that one out of every two students enrolled in schools drop out before reaching the ninth standard. According to the study carried out by the human resource development (HRD) ministry, one out of every four students does not go beyond class five. By class eight the dropout rate gets worse at 50.8 per cent.
In Saturday Extra today
In Real Estate today
Mush Prez till Nov 15
September 7, 2007
Pak SC: When will Mush term end?
September 6, 2007
Pak blasts kill 29
September 5, 2007
Bhutto, Aziz hold talks
September 4, 2007

GSLV fires on all cylinders
September 3, 2007

When Advani said he won't contest
September 2, 2007

We never said deal on hold: Pranab
September 1, 2007
It's truce for now
August 31, 2007
Govt strikes down POTA demand
August 30, 2007
123: Bardhan has 5 questions to ask
August 29, 2007
123: Political deal in 4 days
August 28, 2007