PUNJAB

HARYANA

JAMMU & KASHMIR

HIMACHAL

REGIONAL BRIEFS

NATION

OPINIONS

MAILBAG

BUSINESS

SPORTS

WORLD

CHANDIGARH

LUDHIANA

JALANDHAR

DELHI

HIMACHAL PLUS

HARYANA PLUS

AMRITSAR PLUS

LIFESTYLE
Monday, September 10, 2007, Chandigarh, India
Updated at 3:00 am (IST)

DGP Virk arrested
Owns property worth Rs 100 crore: Vigilance
Chandigarh, September 9
Sarabdeep Singh Virk is the first Punjab director-general of police to be arrested on charges of allegedly doing business while in service, misusing his official position, harbouring a person wanted by law and giving him a fake identity, besides possessing assets disproportionate to his known sources of income.

Former Punjab DGP S.S. Virk at a police station in Mohali on Sunday. — Tribune photo by Vicky Gharu
In hospital, unfit to leave
Mohali, September 9
For a Director-General of Police the surroundings were familiar. Only this time he was on the other side of law. S.S. Virk, former DGP of the state, got no salutes at the Phase VIII police station as he got of the car that brought him from Delhi to Mohali this afternoon.
Virk case: Real issue 'cats', not just assets
Chandigarh, September 9
In what could have wide-ranging ramifications for Punjab and could further spilt the already divided the Punjab police, the Vigilance Bureau has also booked SS Virk for allegedly keeping "cats" - renegade militants - by hiding their identity to tackle terrorism and to keep tabs on militants.



Punjab page: Amarinder backs Virk


Image-building spree by VB?


Police, media on tenterhooks


Virk deserved his fate, says Dal Khalsa
CAST YOUR VOTE
Do you approve of IHF's Rs. 1000/- per goal idea?

ADVERTISEMENT
ADVERTISEMENT

BRIDES WANTED

GROOMS WANTED

OTHERS

HOW TO PLACE ADVTS


Rampaging India lift Asia Cup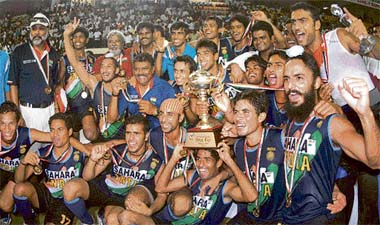 Members of the Indian hockey team pose with the trophy after winning the 7th Asia Cup in Chennai on Sunday. India thrashed South Korea 7-2 in the final. — PTI photo (Details on Sports page)
Pakistan on tenterhooks


Sharif leaves for home
Pakistan braced for a dramatic but tempestuous return of exiled premier Nawaz Sharif with both the government and the Sharif camp keeping under wraps their strategies for the day amid reports he may be arrested on arrival and later deported to Saudi Arabia.

In video (56k)

HOROSCOPE

E - Revolution 2005:
A Two-day IT conclave

Assembly Elections - 2005

Turbans

Chandigarh is 50

125 Years of The Tribune
India: The Tasks Ahead

EARLIER FEATURES

World page: Nawaz dares Pervez to deport him


Saudi offer to keep him, brother again

15 feared dead in AP flyover collapse
Hyderabad, September 9
At least 15 persons were feared killed when an under construction flyover in the commercial area of Punjagutta collapsed this evening. A couple of cement beams of the 2.1 metre flyover caved in trapping several vehicles under the debris. At least five vehicles were still trapped in the rubble as rain hampered salvage operations.
Army to cooperate with police on Siachen scam
New Delhi, September 9
Faced with a controversy over the pilferage of food and clothes meant for troops on Siachen glacier, the Army has finally agreed to cooperate with the Jammu and Kashmir police which had accused it of trying to thwart the probe into the scam.


Creates exotic state of matter
Mumbai Tata institute makes history
Mumbai, September 9
Scientists of the Tata Institute of Fundamental Research have made history in creating the Bose-Einstein Condensation phenomenon in the country, which was predicted 82 years back by two great scientists Albert Einstein and Satyendra Nath Bose.
Sharif: No going back on going back
September 9, 2007
Court orders arrest of Shahbaz
September 8, 2007
Mush Prez till Nov 15
September 7, 2007
Pak SC: When will Mush term end?
September 6, 2007
Pak blasts kill 29
September 5, 2007
Bhutto, Aziz hold talks
September 4, 2007

GSLV fires on all cylinders
September 3, 2007

When Advani said he won't contest
September 2, 2007

We never said deal on hold: Pranab
September 1, 2007
It's truce for now
August 31, 2007