Diwali Gift
Central Jail releases 72 inmates on parole
Rajay Deep
Tribune News service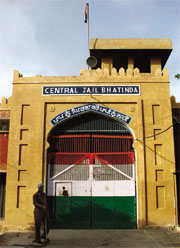 Bathinda, November 7
Diwali, the festival of lights, can illuminate even the lives of jail inmates. And despite the apprehension that jail inmates can abscond, the authorities release them in the hope that it will strengthen their family ties.
The Central Jail, Bathinda, released about 101 prisoners on parole between September 20 and October 20 last year. This time, 72 prisoners have been released on parole and 24 more are hopeful of being released before the festival.
The jail superintendent, L. S. Jakhar said, "It is good for the social and mental well-being of the prisoners. After they come back, they take things in a normal way."
Amarjeet of village Bhucho has been in Central Jail for many years, imprisoned under section 302 of the IPC. Before leaving on parole for celebrating Diwali with his family members, he said, "I am excited about seeing my wife and children. I have made plans for celebrations. Last year, my parole application was delayed but this time, I hope to be temporary released tomorrow."
Karnail Singh, assistant jail superintendent, said, "But for this generous act, the prisoners would have gone wild. It would create a lot of rivalry."
Giving details about the period of parole, a jail official said, "Every landless prisoner is entitled to temporary release for a period of four weeks, twice a year. Prisoners who are land holders get six weeks twice a year subject to their behaviour and other formalities."
Giving details, Jakhar said on October 7, the jail had 1,464 inmates but a month later, on November 7, the number of inmates is 1,344.
The official record of the jail states that last year, there were 53 absconders, but at the number has come down to 17 as the rest have been re-arrested.
Bathinda district has five absconders while the rest belong to Mansa, Muktsar, Ferozepur, Faridkot and some other places.
An official in the jail's warrant office said the attitude of the inmates who go on parole and who could not vary a lot.
Rinku of Mansa, imprisoned under section 302 of the IPC, said, "If someone released on parole does not come back on time, he has to face losses. He loses the security amount which is heavy and also entitlement for parole for a period of one year."
Prisoners awaiting their release discussed at length their responsibilities that they wished to fulfill during the period of parole.
About how Diwali is celebrated inside, Jakhar said, "No crackers are allowed inside the jail premises but sweets will be distributed among the inmates."