Army's touch: Waste becomes worthwhile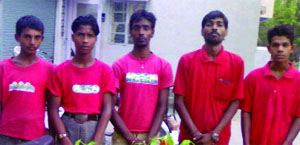 Bathinda, November 8
The solid waste management, especially the disposal of biodegradable and non-biodegradable waste, has emerged as a major problem in all the urban areas. The local administration in the major towns has not been able to tackle the problem of garbage disposal and the response of the people is also very poor, as a result the land and water bodies are getting polluted and the environment is becoming unhygienic.
Directive on use of fire-crackers in Mansa
Mansa, November 8
The district magistrate of Mansa has imposed restrictions on the storage, sale, purchase and use of all sorts of firecrackers, which have the potential to cause serious damage to life, limb and property.
Canal breach: A regular feature in state
Bathinda, November 8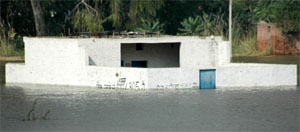 Irrigation has always played an important role in making Punjab the food bowl of the country. Canal system in Punjab is 14,500 kilometer long. It also happens to be one of the oldest and largest canal systems in the country. With such a long irrigation system in place, many problems also come as well.
Water from the Sirhind canal inundated a house at Paras Ram Nagar in Bathinda on Thursday. — Tribune photo by Kulbir Beera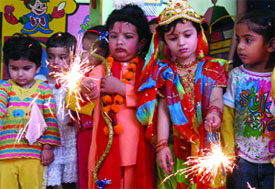 Moments of joy:

Children celebrate Diwali in Bathinda on Thursday. — Tribune photo by Kulbir Beera
Intruder killed in Karanpur sector
Abohar, November 8
An intruder was gunned down by the BSF near Shekhsarpal village in the Karanpur sector on Wednesday. The body of the intruder has been handed over to the Pakistan Rangers after a flag meeting late on Thursday, the sources confirmed.
Bhadaur Clash
Committee sends legal notice to SDM Tapa
Barnala, November 8
Hari Singh Bawa, president of the Bhadaur municipal committee and chairman of Bhadaur Gurudwara Action Committee has send a legal notice to Jai Pal Singh, Sub-Divisional Magistrate (SDM) Tapa for not initiating new inquiry into the Bhadaur gurudwara clash.
Diwali loses sheen as purchasing power declines
Moga, November 8
Diwali this time seems to have lost its sheen here as gold witnessed a price rise and the full stock of paddy has not been lifted from the grain markets.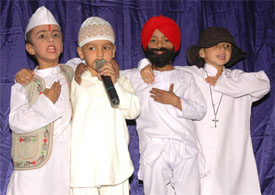 In sync: Students of Amrit Model School conveying the message of communal harmony and brotherhood while performing at the annual prize distribution function held in Abohar. — Photo by Raj Sadosh
Ignited minds take responsiblity
Abohar, November 8
Students of LRS DAV Senior Secondary School here today solemnly pledged to distribute sweets and fire works among the children in their respective localities who cannot afford to purchase.
Kidnapping on Abohar-Malout Road
Mystery deepens as body recovered
Abohar, November 8
The police recovered the body of Pala Singh, who had been kidnapped along with Rajinder Kumar by miscreants in car on the National Highway number 10 on November 1, sources confirmed this morning.
SGPC member convicted
Gidderbaha, November 8
A local court here today convicted Shiromani Gurdwara Parbandhak Committee (SGPC) member Gurpal Singh Gora and one of his associates, in a case related to violence during the 2002 Punjab assembly elections. The court awarded them a sentence of two and a half years.
MP bereaved as nephew dies of dengue
Muktsar, November 8
The city today witnessed the death of a 32-year-old man due to dengue at a private hospital here.
Bank loot bid foiled
Bathinda, November 8
A chowkidar, Balwinder Singh, was caught red-handed while trying to loot the Punjab and Sindh Bank, here this morning.
Held for loot
Bathinda, November 8
The Rama police today arrested one Pal Singh, who allegedly looted a bus conductor with the help of his two accomplices, on Wednesday evening.
Foundation stone laid
Abohar, November 8
The Megh Samaj decided to install the statue of Megh Rishi at the Police Complex crossing on Thursday. Social activist Khazan Devi Parihar ceremonially laid the foundation stone for the memorial. She thanked MLA Sunil Jakhar and the local municipal council for allocating a piece of land for raising the memorial. — OC