Migrant workers give a boost to state economy
Puneet Pal Singh Gill
Tribune News Service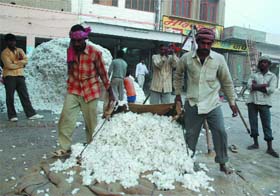 Bathinda, November 15
The migrant labour from various parts of the country, especially Uttar Pradesh and Bihar, have played an important role in strengthening the economy of this agrarian state. The number of migratory labourers working in the state, given the wide spread in the agricultural, industrial, construction and services sectors, are in millions.
When the TNS team visited the Bathinda grain market, it found that a majority of those working there were migrant labour. Most of them are involved in loading, unloading of grain and other similar activities.
Satish Bansal, president, Arhtiya Association, Bathinda, says the basic reason for migration from villages to cities, from one state to another and from one country to another, was economic. ``At our Bathinda mandi, we have more than 700 labourers, a majority of them hailing from UP, Bihar and Rajasthan. Like the Punjabi youth, who in search of greener pastures went abroad, these migrants have come to Punjab to earn their living.''
While the migrant labourers are getting jobs in factories and farms and have even set up small shops, the Punjabi youth, also called `kakey', is moving in cars and riding motorcycles, least bothered about their future and culture.
Some time back, a study by Punjab Agricultural University, Ludhiana, revealed that 1.52 per cent of the migrants are today registered voters. About 55 per cent of the migrant agricultural labour is keen on settling down here permanently. Interestingly, at some places, the migrants have been elected to panchayats, municipalities and even municipal corporations.
Sada Nand, a migrant labourer from Bihar, says that he has been coming to Bathinda for the last 10 years. ``We come here in groups of 10-15 people, a majority of whom belong to the same village or city. I work at Ludhiana in a factory for 5-6 months in a year. Then we come to Bathinda mandi when the paddy season starts and stay here till the cotton season ends. Two of my cousins are also working here with me.''
Same is the case with Rajesh Singh of UP, who has been working in Punjab mandis for the last 23 years. ``Sometimes, we feel sorry for a majority of the youth in Punjab, who are unconcerned about helping their parents in agriculture. We hardly see any youngsters at the mandis and most of the time, it is the elderly who come to the mandis during the procurement season. The youth is seen only at the time of collecting money from the arhtiyas.''