Markfed factor doing wonders for farmers in Talwandi Sabo
Bathinda, December 10
With the cotton production across the state showing a downward trend of an estimated four lakh bales, farmers of 48 villages in Talwandi Sabo block of the district, which have been adopted by Markfed for cotton production, have emerged as winners.
Area under cultivation of Bt varieties has increased this year in Punjab.
Family Welfare & Health Fair Begins
Rs 750 cr earmarked for health, education: Mann
Ferozepur, December 10
The State government had earmarked an amount of Rs 750 crore for the improvement in basic healthcare and education services in the state, said MP Zora Singh Mann, while addressing a gathering on the occasion of inauguration of a three-day family welfare and health fair on the premises of the civil hospital here today.
Cops Under Scanner
CCTVs to monitor working of police department
Ferozepur, December 10
The Ferozepur police seem to have gone tech-savvy, as it has now acquired electronic eyes to keep its men under scanner all the time. The police here has installed for online surveillance closed circuit cameras at key locations in the district headquarters which would keep the higher officials in constant touch with the functioning of various departments, even while on the move.


Lawyers adamant, threaten to intensify stir
Bathinda, December 10
Lawyers in Bathinda, already on the warpath, have decided to intensify their stir in the days ahead. Days after submitting a memorandum to the chief minister, the lawyers were on the street again, protesting against the police by staging a dharna and raising slogans outside the mini-secretariat.
Lawyers taking out a procession in Bathinda on Monday. — Tribune photo by Malkiat Singh
Sarpanch switches loyalty, joins BJP
Fazilka, December 10
Mahinder Chahar, sarpanch of Roop Nagar village, along with six members of panchayat, switched loyalties and left the Congress to join the Bharatiya Janata Party. They joined the BJP in the presence of local BJP MLA and vice-president of the Punjab BJP, Surjit Kumar Jyani, at a special function organised in the village.


In record books with rare currency
Abohar, December 10
Gaurav Seemar has his name recorded in the Limca Book of Records 2007 for collecting Indian currency notes with serials 111111, 222222, 333333 and alike. A resident of Dharampura village near here, Gaurav started collecting the rare currencies in 2001 and his collection has now grown to 90 notes. Gaurav Seemar
Despite order, three schools remain open in Barnala
Barnala, December 10
Baba Gandha Singh (BGS) Public School and its sister concerns at Bhadur and Mehalkalan remained open today despite the state government's order to remain closed on account of Guru Tegh Bahadur's death anniversary.


Rajindra College wins cricket tourney
Bathinda, December 10
A cracking 50-run knock in 38 balls by Lakhvir Singh of Government Rajindra College, Bathinda, guided his team to victory who clinched the title in Inter-Zonal Cricket Tournament of Punjabi University, Patiala, held at Government Rajindra College cricket grounds here today.

Winners of Rajindra College cricket team in Bathinda on Tuesday. — Tribune photo by Kulbir Beera

Kids set the ramp on fire
Bathinda, December 10
Modelling by the tiny-tots marked the annual day celebrations of Lord Rama Public School, here on Tuesday. The function started with Ganesh Puja. This was followed by a soul-stirring bhangra by the students that kept the people spellbound.

Students of Lord Rama Public School walk the ramp in Bathinda on Monday. — Tribune photo by Kulbir Beera



Uproar mars planning board, Zila Parishad elections
Moga, December 10
Elections for the district planning board and Zila Parishad witnessed uproarious scenes as the Congress members resorted to sloganeering here today. After members of the Shiromani Akali Dal (SAD) and the Congress refused to budge, the concerned authorities decided to distribute seats equally between them.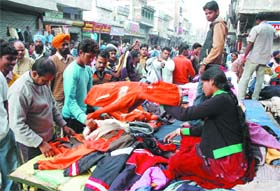 With mercury dipping, the sale of woollens has picked up in Bathinda. — Tribune photo by Kulbir Beera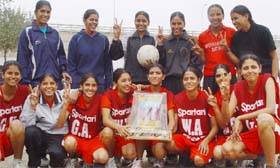 The V Smile: The Bathinda team that won the state-level senior netball championship, organised at Khalsa Senior Secondary School, pose with the trophy on Monday. — Tribune photo by Malkiat Singh
Jail for women demanded
Mansa, December 10
"Crime among women and children is increasing with every passing day and accused women and children are held as undertrials and sometimes as convicts. But there is no jail or observation home for women in Mansa district," said Rekha Sharma, president of Punjab Istri Sabha, district Mansa, at a meeting held here today.
BSF nabs Pak intruder in Fazilka
Fazilka, December 10 
Patrolling team of the 20th battalion of the BSF Fazilka, nabbed a Pakistani intruder in the Fazilka sector. According to FIR lodged with the Sadar police by Assistant Commandant Surjit Singh of BSF, a Pakistani intruder was noticed at the Gulaba Bhaini border check- post in the Fazilka sector last night.
AK-47 rifle snatched away from head constable
Moga, December 10
Two unidentified youths reportedly snatched an AK- 47 rifle from a Punjab Police head constable, posted as a bodyguard with the Bharatiya Janata Party's state working committee member, here on Monday.