Heavy turnout, 70 pc polling reported
Bathinda, May 12
Widespread violence coupled with allegations of rigging and roughing up of mediapersons marred the polling for the Zila Parishad and Block Samitis in Bathinda district today. Elaborate arrangements for the polling notwithstanding, violence erupted at several places and clashes ensued.
Confident, says SAD leader
Harirai Pur, May 12
Amid a clash between Shiromani Akali Dal (Badal) and BJP workers at village Burj Gill of Phul block, more than 74 per cent polling for the Block Samiti and Zila Parishad elections was registered there.
Panchayat polls: Filing of papers from today
Bathinda, May 12
Vijay N. Zade, ADC (D) cum-Additional District Electoral Officer, Bathinda, has informed that for the gram panchayat elections, the filing of nominations will begin on May 13. Nomination papers can be filed till May 16 from 11 am to 3 pm and they will be scrutinised on May 17.
Counting on Wednesday
Bathinda, May 12
Eight centres have been set up for the counting of Block Samiti and Zila Parishad elections held today. Counting will start from 9 am onwards on May 14.
SAD state of affairs for village democracy
Firing, clashes & rigging in Muktsar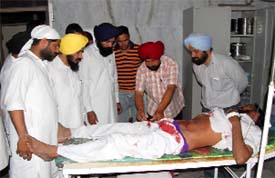 Akalis, Congmen cross swords
CM, Sukhbir skip voting
Badal/Lambi (Muktsar), May 11
Following the pattern usually heard of in Bihar elections, the ruling Shiromani Akali Dal (SAD) allegedly left no stone unturned to bend the polling day in its favour. Booth capturing, firing, assaulting opponents and even media persons, remained the summary of the PRI polls here today.
Jugraj Singh, a supporter of SAD (B), attacked by SAD (A) workers, undergoing treatment at the Civil Hospital in Moga. — Tribune photo by Kulwinder Sandhu
Polls not peaceful
Ferozepur, May 12
Several incidents of violence marred the polls, which saw tussle between the Akali workers and Congressmen leaving quite a few injured.
Contestants serve meals on pretext of 'langar'
Alamgarh (Abohar), May 12
Supporters of some contestants were found serving meals under the pretext of "langar" in village Alamgarh located on the outskirts of Abohar town during the polling today. They had arranged a "feast" even last night, a resident told visiting newsmen.
6 injured in clashes
Abohar : About six political activists were admitted to the Nehru Memorial Civil Hospital here after clashes during Panchayat Samiti and Zila Parishad polling in different villages today. They were identified as SAD (B) workers, Sukhmander Singh of village Pattisadique and Gurdev Singh of village Kikkarkhera, Congress workers, Mohinder Ram of Seetogunno, Baldev Singh of village Kandhwala Amarkot, Lado Devi of Burj Muhar and her husband Buta Singh. None of them was however seriously injured.
Firing in Mansa: 3 injured
Mansa, May, 12
Three persons got injured in two firing incidents during 70 per cent polling at different polling booths in Mansa.
75 pc polling in Bhucho Kalan
Bhucho Kalan (Bathinda), May 12
About 75 per cent polling was recorded in Zila Parishad and Block Samiti elections here today amid allegations of rigging by the SAD.
Punjab Mail stopped
Minister flays Congmen
Ferozepur, May 12
Irrigation Minister Janmeja Singh Sekhon today criticized the Congress workers for blocking the Mumbai-bound Punjab Mail due to which hundreds of passengers remain stranded for over 4 hours. Sekhon was talking to media persons at his residence here today.
Traders observe bandh
Barnala, May 12
The readymade garments market observed bandh for about two hours here today to lodge symbolic protest against the registration of murder case against a shop owner, Toti. Toti has been booked in connection with the murder one, Ravinder Kumar, who was working as helper in another shop.
Nursing care
'Skewed patient-nurse ratio mars patient care'
Bathinda, May 12
The modern Florence Nightingales are finding it increasingly difficult to extend the spirit of dedication which the pioneer in this field made synonymous with nursing care.
Dance, contest mark celebrations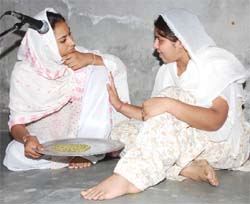 Abohar, May 12
The Sardar Patel Medical Institute and Meera Medical Institute jointly celebrated the Nurses' Day here on Monday. Chief guest Faquir Chand Goyal and presiding officer Vimal Thathai, both former members of the municipal council, were joined by Gauri Shankar Mittal and Sita Ram Sharma, chairman and managing director respectively of the institutes, in lighting the lamp before the portrait of Bharat Mata.
Students presenting a skit on the Nursing Day in Abohar on Monday. —A Tribune photograph