NHRC helps widow get family pension
Dehradun, October 24
On the intervention of the National Human Rights Commission (NHRC), a widow living in Chamoli district was able to get family pension after fighting for it for 27 years.
A fascinating journey in colours
Drhradun, October 24
A body tattoo that tells the tale of valour, resilience and heroism is thought to be auspicious. In Bihar's Madhubani it is a gift bestowed by parents on young girls prior to their wedding.

Madhubani paintings on display at Saras Mela in Dehradun. Tribune photo: Anil P. Rawat
Thomso-08 kicks off with Hasya Kavi Sammelan
Roorkee, October 24
The annual extravaganza of the Indian Institute of Technology (IIT), Thomso-08, officially kicked off here on Thursday night with the IIT director, Prof. S.C Saxena formally declaring the event open in a function organised at the Senate hall.
ECG course concludes at IIT
Roorkee, October 24
The five day long course on "Comprehensive Electrocardiography" (ECG), concluded here at the Indian Institute of Technology (IIT).
Awesome threesome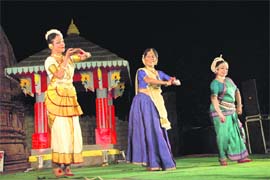 Dehradun, October 24
With their nimble footwork and grace the three dancers presented a breathtaking performance at Virasat-08 yesterday. Beginning with an invocation to Lord Shiva the creator, famous Kathak dancer Shovana Narayan, Odissi exponent Kiran Sehgal and Bharati Shivaji of Mohini Attam fame began with Shringar Bhakti, paying obeisance to three different poets Jaidev Bharati, Vidyapati and Banmali Das Gopal, who lived and wrote poetry in different centuries.
(From left) Bharti Shivaji, Shovana Narayan and Kiran Sehgal perform during the Virasat festival in Dehradun on Thursday night.
Crackers in selected markets only
Dehradun, October 24
As A precautionary measure ahead of Diwali, the district administration has banned the sale of crackers in all congested and busy markets in the city.
Financial meltdown: Shoppers keep away from markets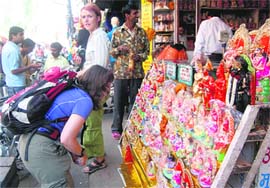 Dehradun, October 24
The ripples of financial meltdown was evident amongst Diwali revellers in Dehradun with most of them staying off the markets this year. With hardly few days left for Diwali, the buying is yet to pick up in Dehradun markets.


With few local buyers, shops are attracting more foreign tourists this Diwali in Dehradun. Tribune photo: Anil P. Rawat
Day 1: South zone winner all the way
Dehradun, October 24
South zone won both the matches on the inaugural day of the All India Kabbadi Tournament here today. Altogether, four teams are participating in the tournament. On the first day South Zone won both its league matches.
Rising Star marks comfortable win
Dehradun, October 24
It was an outstanding performance by Arun Khandka of Rising Star Doon against Yuva XI in the ongoing Yuva Parivar Sewa Samiti T20 Cricket Knockout match played here at Matawala Bhag. He hit four sixes in his 53 run inning to make his team win with seven wickets in hand.
Dispensary reopened
Mussoorie, October 24
Sant Nirankari Mandal reopened its dispensary at Jharipani, Mussoorie, today. The dispensary closed down six years ago was reopened following public demand.