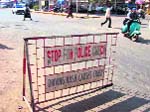 Drunken driving on the rise
Are the cops watching?
Dehradun, November 12
Notwithstanding tall claims of the traffic police, accidents in the capital on account of rash driving by drunk drivers are being reported almost daily. On Monday, Aditya, who was in an inebriated state, was injured after he rammed his bike into a jeep parked on Haridwar road near the Combined Medical Institute (CMI).
Empowering the rural poor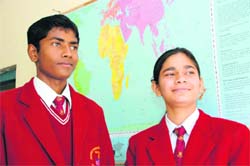 'Yuva Shakti' at Purkul village aims at providing holistic support to children and the youth by providing them access to quality education
Dehradun, November 12
Coming from lower middle-class families with no support or hope for a future, life for Sonali Pundir and Ranjan Kumar, Class IX students of a school run by the Purkal Youth Development Society, today holds a different meaning.
Sonali Pundir and Ranjan Kumar who have been selected for a cultural exchange programme.