MC to light bonfires to beat winter chill
Dehradun, January 2
With mercury plummeting, the Municipal Corporation has started putting up bonfires at various places in the city to bring some relief for the street dewellers from the winter chill.
Number craze: RTO list ready
786 in great demand, say sources
Dehradun, January 2
The idea of selling VIP numbers for vehicles has gone well with the Regional Transport Office (RTO) Dehradun, as the department has successfully generated a revenue amounting Rs 27 lakh in one year. The RTO has decided to sell VIP vehicle numbers in December 2007.
Finally, some aid for Babli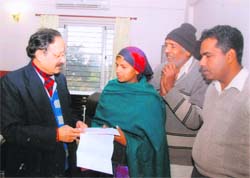 Dehradun, January 2
Taking cognisance of the media reports regarding the plight of the national bravery award winner Babli, who is struggling to arrange financial aid for the treatment of her younger brother Sonu, the Uttarakhand Chief Minister BC Khanduri today handed over a cheque of Rs three lakhs to Babli.
Uttarakhand CM Maj Gen BC Khanduri (retd) hands over a cheque for Rs 3 lakh to Babli in Dehradun on Friday. A Tribune photograph
Forest guards to resume stir
Dehradun, January 2
Discontentment simmers among forest guards in the state, even as the mid-January deadline for fulfillment of the long-standing demand of promotion-based pay scale and Central Sixth Pay Commission benefits comes to an end.
Govt policies anti-people, say protesting Cong men
Dehradun, January 2
Congress workers today held a demonstration at the Doiwala Block Development Office, Dehradun accusing the ruling BJP government for resorting to anti-people policies.
IIT students get few job offers this time
Roorkee, January 2
The impact of global economic recession is being felt at the Indian Institute of Technology-Roorkee (IIT-R) as well and only a few companies are coming forward to hire engineers this year. With a sharp decline in placement offers, it seems that there is no guarantee of a job for even an IIT pass out.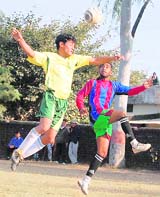 Eleven Star outshine Doon Star
Dehradun, January 2
Eleven Star team outshine Doon Star 4-2 in a tie-breaker at the second semifinal match of Kharag Bahadur Memorial Football Tournament underway at Sri Guru Ram Rai Inter-College, Nehru Gram, Dehradun here today. Eleven Star's forward earned a penalty in the 4th minute of the game but failed to take advantage of the opportunity as the shot taken by Vijay Negi missed the left pole by a distance. Just 10 minutes later, Eleven Star again made an attempt to take a early lead by scoring a goal but fate did not favour them as their second shot too got deflected from the top bar.

Eleven Star player heads the ball at the 2nd semifinal match of Kharag Bahadur Memorial Football Tournament in Dehradun on Friday. Tribune photo: Anil P. Rawat
Doon swarmed by realtors
Dehradun, January 2
Real estate in Uttaranchal is vying for sufficient foreign investment for its development. The real estate in Dehradun is growing at a frantic pace. It opens up opportunities in industry, tourism, commerce and investment.
Hockey popularity takes a dip
Dehradun, January 2
The interest for hockey has seen a steep decline in Dehradun. The participation of public schools in hockey tournaments has extremely gone down. And the ignorant attitude of the government in promoting the game has made the things worse.